The Philippines richest man has joined a contest to build a new airport near Manila, breathing life into the long-delayed project and drawing an immediate response from fellow billionaire and competitor Ramon Ang.
Belle Corp., part of Henry Sys SM Group, will become an almost equal partner in Solar Group-led All-Asia Resources & Reclamation Corp.s $20 billion proposal to construct an airport and seaport, said Edmundo Lim, the ventures vice chairman. While he declined to specify how much Belle would invest, he added that China Communications Construction Co.s dredging unit is set to be both an investor and technical partner. Ang, after being told of Sys proposal, said in a text message that its now going to be a beauty contest."
All-Asia plans to reclaim 2,500 hectares (6,180 acres) of land near a naval and air base at Sangley Point, south of Manila, as the Philippine capital struggles to cope with a rising number of flights and increasing road traffic. The proposal competes with Angs San Miguel Corp., which offered to build an alternative airport two years ago. While talk of a second airport has been around for years, President Rodrigo Dutertes new government has vowed to boost spending on infrastructure and speed up projects.
Sys interest is an indication of this projects potential returns and we could see more interest from other big business groups, said Manila-based Astro del Castillo, managing director at First Grade Holdings Inc., a financial and investment advisory firm. We will have a fashion show on who can present the best plan. The reputation of an investor is important, particularly in big-ticket projects. The interest in this bidding could draw attention to other government infrastructure projects.
Two Billionaires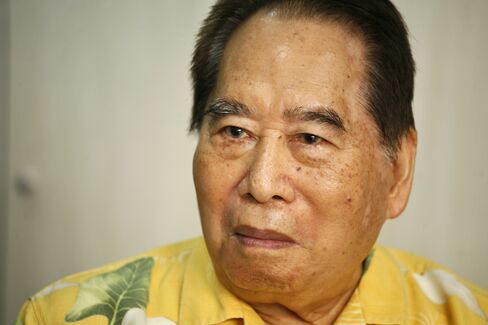 Sy — worth an estimated $14.4 billion, according to the Bloomberg Billionaires Index — runs businesses including SM Prime Holdings Inc., the nations biggest property company by market value, and BDO Unibank Inc., its largest lender. Solar, owned by the Tieng brothers, has investments in industries such as TV networks, real estate and consumer goods. San Miguel, the countrys largest food and drinks company, has expanded under Ang into non-allied industries, including tollroads and power.
While the International Air Transport Association says Manilas four air terminals have a combined designed capacity of 31 million passengers, government data show that 36.68 million passengers passed through last year. Traffic congestion in Manila and other urban areas cost the Philippines 2.4 billion pesos ($49.4 million) in productivity losses per day, or more than 800 billion pesos a year, according to a bill filed in the Senate to provide Duterte emergency powers to solve the issues.
Traffic Issues
Building a new port and special economic zone will help ease traffic in Manila, home of the nations largest sea-cargo facility, Lim said. Between 6,000 and 7,000 vehicles a day travel between the Manila port and industrial sites, he said. The airport is also used by about 40,000 vehicles a day. This is such a big project, and we need big muscles, Lim said in a phone interview, adding that his company is open to other partners.
In his beauty contest" text message, Ang said that San Miguel has offered to build the new airport in Bulacan, north of Manila, in a revision from its 2014 proposal for a $10 billion airport on reclaimed land in Manila Bay.
Cora Guidote, senior vice president at Sys SM Investments Corp., which has shares in Belle, declined to comment in a text message.
Source: http://www.bloomberg.com/