The first day of Brazils impeachment trial was surprisingly undramatic, even tedious, considering its the most important political event in the countrys recent history.
It lacked the massive street protests and shoving matches among lawmakers that occurred in the run-up to the lower houses vote in May to send the impeachment motion to the Senate. That decision led to the temporary suspension of President Dilma Rousseff, who is widely expected to lose the final trial that will wrap up by Wednesday next week.
With the almost nine-month impeachment process in its final days, many Brazilians seemed to be paying little attention to the Senate session, where legislators spent the opening hours on Thursday bickering over procedural and legal issues rather than debating the merits of the case. Tweets about One Direction pop star Louis Tomlinsons social life were trending higher in Brasilia than impeachment that evening, in stark contrast to May when residents of the capital city were glued to the congressional proceedings on TV.
"What I saw today was pretty boring, and its pretty much decided anyway that shes leaving," said 24 year-old Quivia Cruz da Silva, who cleans offices in downtown Brasilia. "People are getting a little tired of this."
For another look at the impeachment process in Brazil, click here.
Still, the Senate proceedings could prove to be a watershed for the Latin American country, by giving Rousseffs vice president and successor, Michel Temer, some of the legitimacy he needs to revive economic growth. The 75-year-old career politician has said on numerous occasions he will have more freedom after the impeachment trial to implement policies and introduce key proposals, including measures to shrink a near-record budge deficit.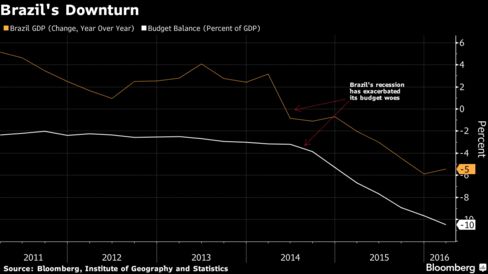 But fixing Brazils recession-battered economy will prove no easy task, especially as rifts in Temers alliance threaten to intensify once the common goal of ousting Rousseff is gone. Coalition members in Congress have already started to butt heads over measures that would cut into wages of civil servants and judiciary workers.
"The real problem of Temer is his own support base," said Marco Antonio Carvalho Teixeira, a political scientist at the Getulio Vargas Foundation, a Brazilian research group and business school.
Moral Authority
Rousseff and her allies have repeatedly tried to challenge the impeachment process in court, saying the charges against her of using accounting tricks to mask a budget deficit arent grounds for her ouster. Supreme Court Chief Justice Ricardo Lewandowski is presiding over the Senate trial to ensure proceedings follow the Constitution.
One of Rousseffs staunchest defenders, Senator Gleisi Hoffmann, on Thursday questioned the moral authority of Congress to try the president when many members are under investigation for corruption. The ensuing argument included one legislator accusing another of taking drugs.
After debating procedural issues on Thursday morning, Senators began questioning witnesses later in the afternoon. The testimony will continue on Friday, possibly running into the weekend.
Rousseff told hundreds of supporters who rallied on her behalf Wednesday night that she would personally defend herself in the Senate on Monday. Her mentor and predecessor, Luiz Inacio Lula da Silva, will stand by her side in a show of solidarity, according to Rui Falcao, the leader of their Workers Party.
The Senates 81 members need at least 54 votes to permanently oust Rousseff and ban her from public office for eight years. Confident they will succeed with at least 60 votes, Temer allies are already discussing details of his inauguration ceremony and the removal of Rousseff portraits from government buildings. Temer plans to travel to the Sept. 4-5 Group of 20 leaders summit in China as soon as impeachment is over.
Source: http://www.bloomberg.com/