Brazil's real, stocks and bonds tumbled as a fresh political crisis ensnared President Michel Temer and threatened to derail an agenda designed to pull Latin America's largest economy out of its deepest recession on record.
Trading on the Ibovespa briefly came to a halt Thursday, sinking the most since 2008, with state-owned companies from Petroleo Brasileiro SA to Banco do Brasil SA among the worst losses. The real posted its biggest slide since 1999 even after the central bank intervened to support the currency. The premium investors demand to own the nation's sovereign bonds rather than U.S. Treasuries jumped the most since June 2013.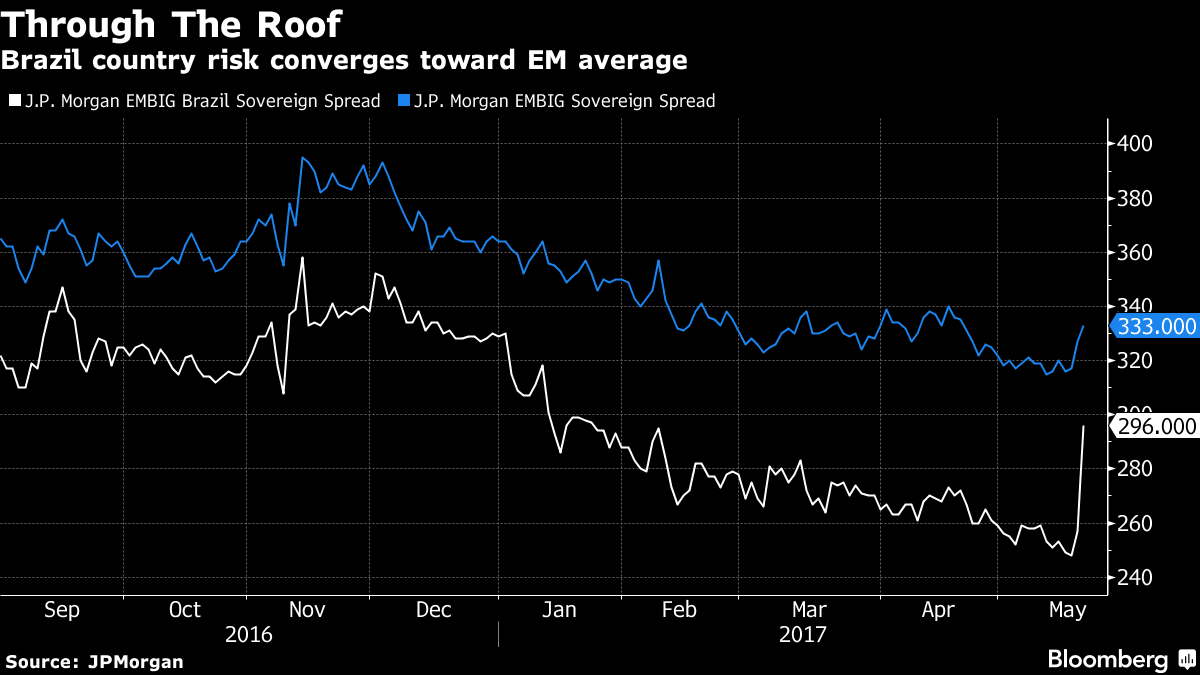 "Markets will overreact, but the reality is that Brazil is rooting out the corruption that has plagued it for centuries," said James Gulbrandsen, a Rio de Janeiro-based portfolio manager at NCH Capital who holds Brazilian shares. "This significantly increases the likelihood of new elections within the coming months."
Brazil's political crisis deepened as government allies began discussing scenarios for the replacement of Temer after federal police carried out search and arrest warrants throughout the capital. The operation came after O Globo newspaper reported on leaked testimony indicating that Temer approved payoffs to buy the silence of Eduardo Cunha, the mastermind behind last year's ouster of former president Dilma Rousseff.
"I will not resign," Temer said in a televised address at the presidential palace in Brasilia. "I know what I did. I know my actions were correct."
The political crisis pushed the CBOE Brazil ETF Volatility Index up 38 percent, posting a record daily jump. The iShares MSCI Brazil Capped exchange-traded fund plunged 16 percent. The selloff also drove up the yield on the country's $2.5 billion of bonds due 2026 by the most since they were issued in March 2016.
Brazil's currency futures plunged in early trading, triggering a circuit breaker. This year's carry-trade gains from going long the Brazilian real and short the dollar are nearing zero after reaching 8.7 percent on Tuesday. A spike in one-month implied volatility also signals choppy trading ahead, making the trade less attractive.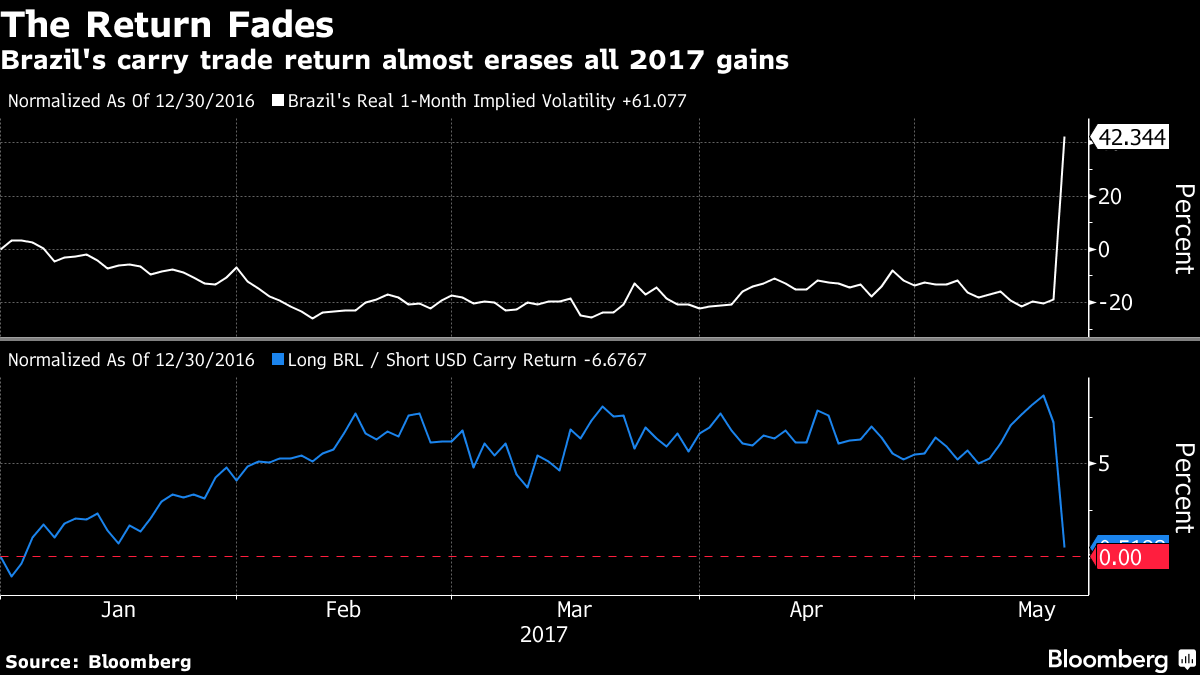 Brazilian assets had rallied for the past year as Temer pursued policies designed to pull the country out of recession and close a budget deficit.
Read More: Quick Guide to Brazil Futures Markets Ahead of Expected Turmoil
The scandal adds to a turbulent 24 hours in global markets, with volatility returning on reports U.S. President Donald Trump had asked then-FBI Director James Comey to drop an investigation into former national security adviser Michael Flynn in February, before firing him last week.
Source: http://www.bloomberg.com/