Britains financial markets suffered a tumultuous week as investors woke up to the reality of the U.K. governments approach to Brexit.
Pound selling, sparked by Prime Minister Theresa Mays timetable for Britains withdrawal from the European Union, accelerated throughout the week, culminating in a flash crash on Friday that saw the currency fall 6.1 percent in just a few minutes.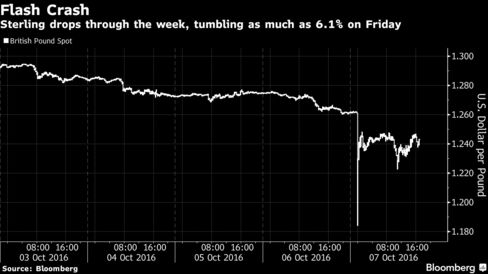 While some of those losses faded, sterling remained lower for the rest of Friday, leaving its weekly drop almost as severe as the week of the vote itself. The currency has fallen on concern that Britain is headed for a so-called hard Brexit that would sacrifice access to the EUs single market in return for greater control of immigration.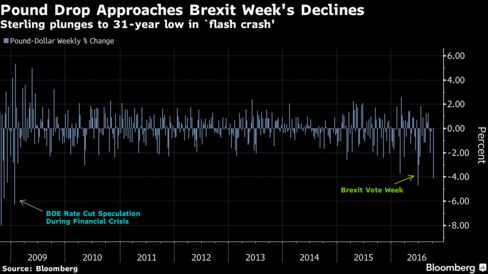 Against the euro, sterling dropped to its weakest level in about seven years.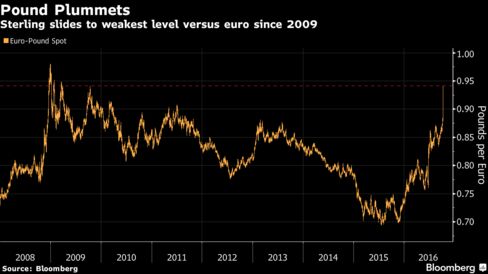 The bigger picture was just as bleak, with losses versus every other currency.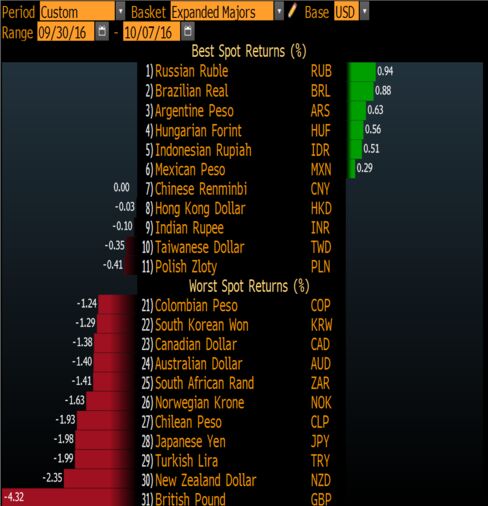 Gold had a bad week — unless its priced in pounds. Some investors favor the precious metal as a store of value when currencies weaken.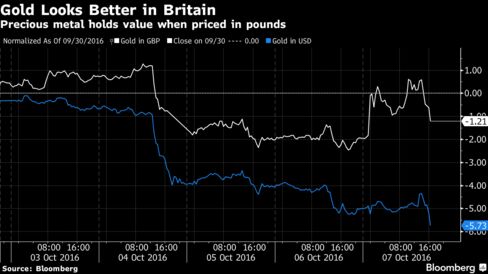 The weaker currency propelled the 10-year break-even rate, a bond market gauge of expectations for retail-price inflation over the next decade, to its biggest weekly increase since 2009.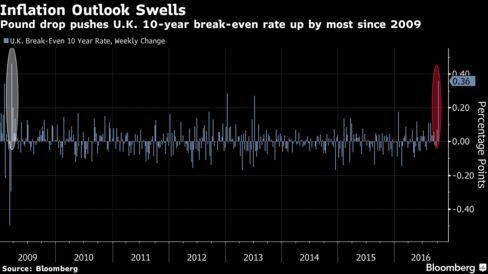 Higher expectations for inflation hurt bonds as faster price growth reduces the value of their fixed-payments. The yield on 10-year gilts exceeded 1 percent for the first time since June on Friday.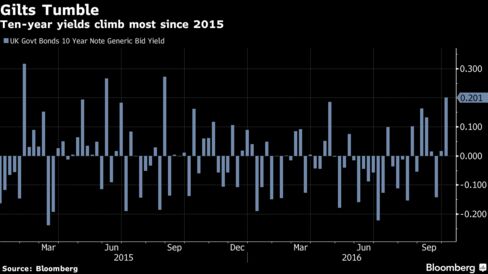 Faster inflation may also deter the Bank of England from more interest-rate cuts or asset purchases, further reducing the allure of gilts.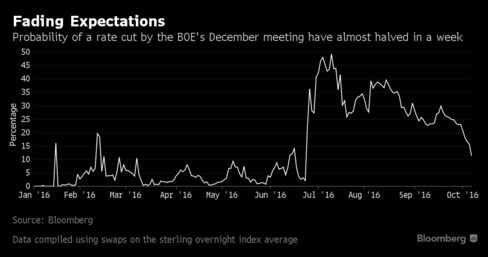 The rate on U.K. 10-year interest-rate swaps reached the lowest level relative to government bond yields since May. Swap spreads, a proxy for credit risk, usually involve a premium over government securities.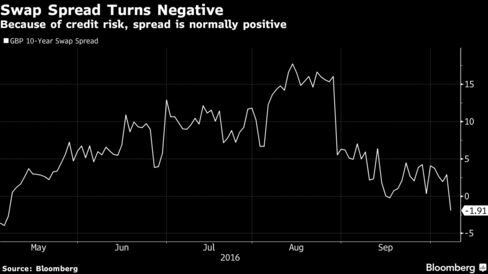 Perhaps the only bright spot for U.K. assets this week was in stocks, as companies that get a share of their revenues from outside Britain rallied. The FTSE 100 index climbed close to a record high on Tuesday, and shares also gained on Friday amid the fallout from the flash crash.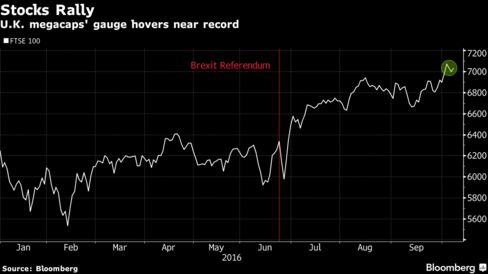 HSBC Holdings Plc, which has the largest weighting in the FTSE 100, climbed to its highest price since June 2015, while the FTSE 350 Industrial Metals & Mining Index had its best week since April. Sports Direct International Plc sank 11 percent in the week after the pounds extreme movements forced it to scrap its profit forecast and EasyJet Plc slumped to its lowest since January 2013 as sterlings slide inflated costs.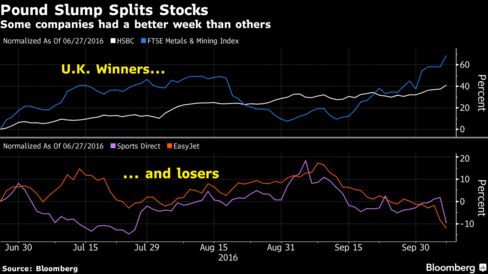 Source: http://www.bloomberg.com/