Canadian stocks surged back into a bull market, propelled by a furious rally in commodities producers and elevating the nations equity markets to one of the top performers in the world this year.
The S&P/TSX Composite Index rose 0.6 percent to 14,226.78 Friday, capping a 20 percent rally from a bear-market low of 11,843.11 on Jan. 20. The Canadian equity benchmark has surged 9.4 percent in 2016, the second-most among developed markets tracked by Bloomberg. The index plunged 11 percent last year.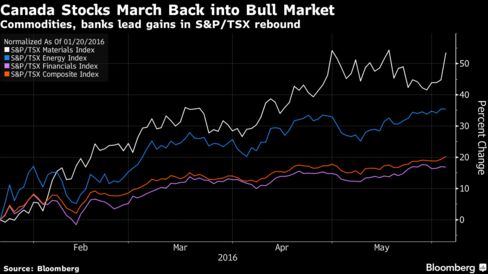 More than C$370 billion ($286 billion) was added to Canadas resource-heavy equity market in only four months as crude rallied more than 80 percent over that time, stoking growth in the export-oriented economy, the worlds 11th largest, and easing pressure on the balance sheets of lenders exposed to the sector. New Prime Minister Justin Trudeau unveiled in March a budget laden with deficit spending, adding fiscal stimulus to an accommodative interest-rate policy.
Weve turned the corner on the freefall in oil prices, said Kash Pashootan, fund manager at First Avenue Advisory of Raymond James Ltd. in Ottawa. His firm manages about C$260 million. Were getting back to more of what I call a normal market where companies are trading based on fundamentals and future forecasts, which was impossible before as no one knew when commodities would bottom out.
U.S. Fed
Prices for commodities from copper to oil and gold have rallied from the lowest levels in at least 25 years, nearing bull-market territory amid increasing signs of economic stability in China and growth in the U.S., Canadas two largest trading partners. The Bloomberg Commodity Index, which tracks returns for 22 raw materials, has surged almost 20 percent from a January low after suffering five straight years of declines through 2015. The gauge still remains about 50 percent below the high reached in 2011.
Odds of a Federal Reserve rate hike this summer faded after the U.S. reported weak jobs data for May on Friday, torpedoing the U.S. dollar and boosting the price of resources denominated in the currency. The Canadian dollar rallied 0.93 cents, or 1.2 percent to 77.29 U.S. cents at 4:08 p.m.
Currency Role
These trends are sustainable as long as the dollar stays well-behaved, said Jurrien Timmer, director of global macro at Fidelity Investment, in an interview in Toronto. The last couple of years, the market has been very narrow. And what happens with the dollar depends on the Fed.
Miners have delivered the biggest individual gains in the index this year, with nine metals producers at the top of the index leading the way with rallies of more than 100 percent. Gold rallied 17 percent in the first quarter, the most since 1986. First Majestic Silver Corp. is the best-performing stock in the index with a 237 percent gain, lifting raw-materials producers to a rally of 43 percent, the best start for the industry in three decades, according to data compiled by Bloomberg.
Crudes bounce from a 12-year in low in February has also provided a tailwind to Canadas stock market. Energy producers have surged 35 percent since the S&P/TSX bear-market low, while banks in the S&P/TSX have surged 17 percent.
Bank of Nova Scotia, Canadian Imperial Bank of Commerce, and National Bank of Canada have jumped at least 11 percent this year, leading banks higher as concern eases that loans to the oil patch will pose a threat to lenders balance sheets.
Banks Rebound
What you see with the Canadian banks is a tug of war between pricing in potential loan losses from energy with the fact dividend yields have been so attractive, Pashootan said. We saw earlier in the year dividend yields upwards of 5 percent. That was a turning point.
Indicated yield for Scotiabank sits at 4.4 percent, while CIBC and National Bank yield more than 4.7 percent, data compiled by Bloomberg show.
All told, the broader index trails only New Zealand this year among developed markets, though the S&P/TSXs rapid rally through the first half of 2016 doesnt leave much room to grow, said John Stephenson, CEO of Stephenson & Co. Capital Management in Toronto.
The TSX will sort of plateau, he said. Stephensons firm manages about C$50 million. You might get another percentage point or two next month, but its looking pretty front-loaded.
Energy Conviction
First Avenues Pashootan is more optimistic and is on the hunt for energy names to add to his existing holdings including Enbridge Inc. and Keyera Corp. His weighting in commodities has doubled to about 8 percent of his portfolio from 4 percent in 2014.
We have conviction in energy so weve started to add, he said. Theres been a shift from our pessimism of even three months ago to now. Given were off the bottom, now is the time you want to start building your positions for where things will be two, three, four or five years from now.
Source: http://www.bloomberg.com/