Less is more appears to be the mantra among Bank of England policy makers.
Even the usually outspoken Governor Mark Carney has kept stumm. In comments so far this year, he's broken with previous form and mostly stuck to the Monetary Policy Committee's central view. And then, along with other officials, he's had to refrain from public speaking — aside from policy-specific communications — since the middle of last month until after the snap U.K. election in June.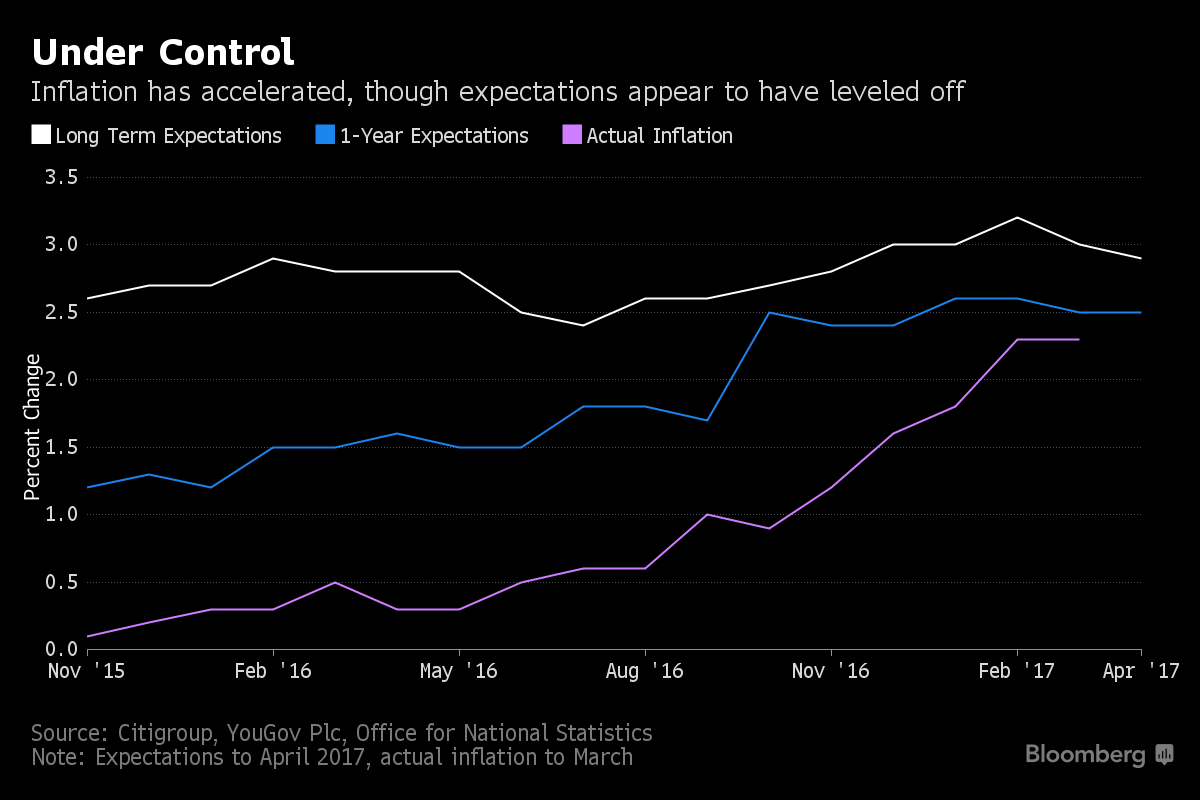 The first insight in weeks into the bank's thinking will come on Thursday, when the BOE publishes its interest-rate decision and quarterly Inflation Report at noon in London. Carney will be pressed on the timing of the bank's slow trek toward tightening at news conference after the announcement. Despite a weak first quarter, the economy has performed better than expected since the vote to leave the European Union, and inflation is above target. 
"It has felt particularly quiet in this latest run up," said Victoria Clarke, an economist at Investec Securities. "I wouldn't expect a very strong steer or marked shift one way or the other" on the policy outlook.
There are plenty of reasons for the bank to stay on hold. Signs of strain on consumers, the economy's main growth engine, are starting to show, and officials may be hesitant to act amid the political hurdles of both the general election and leaving the European Union. Also, the normally nine-strong committee is down one member after Charlotte Hogg was forced to resign in March.
No Change
"They're not going to make changes when they can't go out and defend them," said James Rossiter, an economist at TD Securities in London. "And if there's no reason to change any major elements of the last decision, why not wait until a bit later when you have a bit more clarity?"
Kristin Forbes was the sole policy maker to vote for a rate hike in March. In the minutes of that meeting, some members said it would take "relatively little" upside news to consider a need for tightening. In the last comments before the pre-election purdah, Michael Saunders effectively outed himself as within that group, predicting a faster inflation pick-up this year and stronger growth.
Since then, growth has slowed and inflation has accelerated. Economists expect that to be reflected in the BOE's new forecasts, seeing lower projections for expansion and faster price gains after the pound's depreciation since the Brexit vote last year. 
Gross domestic product increased 0.3 percent in the first quarter, its worst performance in a year. In February, the BOE predicted that consumer-price growth would get close to 3 percent early in 2018 and stay above its 2 percent target through the three-year forecast period.
Technical Speeches
Carney himself has largely focused on regulation in his speeches. His first major event of the year, in mid-January, proved heavy on technical economic analysis with little on policy.
Exactly a year earlier, his 2016 opening — titled "The Turn of the Year" — gave a far more detailed view of rates and why they weren't going up. The title was a reference to earlier comments that the decision on adjusting rates would come into "sharper relief" around that time.
Investors see a less than 60 percent chance of any move by the BOE until at least the end of 2018. By comparison, the Federal Reserve is on track to raise rates twice more this year after a hike in March.
One reason for the BOE's caution is that the inflation pick-up is largely due to the weaker currency and, in its assessment, wage growth remains modest. Long-term inflation expectations are declining, according to the most recent Citigroup survey. There's also the matter of Brexit, which hasn't derailed the economy but is darkening the outlook for trade and employment.
"This is the time to say nothing," said TD Securities's Rossiter. "This Brexit cloud of uncertainty is there for the next two years and you don't need to rush decisions right now.''
Source: http://www.bloomberg.com/