The Old Lady of Threadneedle Street is looking a little short of female company.
The Bank of England is losing four of its top women this year after Jenny Scott resigned as Executive Director of Communications. That's potentially embarrassing for Governor Mark Carney, who pledged on his arrival in 2013 to remedy the gender imbalance at the institution's highest levels. It also heightens pressure on the bank and the U.K. Treasury, which selects BOE policy makers, to find female replacements for at least some of the roles.
The departures could leave no women at all on the MPC or among the deputy governor ranks, and just four among the 16 executive directors.
The trend is disappointing for the central bank, which aims to have women in 35 percent of senior management roles by 2020, up from 28 percent last year. BOE data published in September showed that while 44 percent of its employees are female, 60 percent of them are in the lowest two pay quartiles.
"The real problem is the organizational structure," said Vicky Pryce, an economist at the Centre for Economics and Business Research. "You don't solve it by just bringing in a few people at the top from the outside — you need to be working within the organization to push people up."
Lack of Women
Scott's departure follows that of Deputy Governor Minouche Shafik in February for the London School of Economics. Monetary Policy Committee member Kristin Forbes will leave in June instead of seeking a renewal of her three-year term. 
On top of that, Shafik's replacement Charlotte Hogg resigned suddenly last month after it was found she omitted to disclose a family link to Barclays Plc. She also served as chief operating officer, yet another role that will need filling.
When Carney started as BOE governor, he noted the "striking" lack of women on the nine-member MPC. At the time there were none, and hadn't been since Kate Barker left three years previously. Since its independence in 1997, only seven of 40 policy makers have been women.
Nor does the BOE fare well compared with its peers, according to an index compiled by the think tank OMFIF that tracks the presence of men and women among central bank senior staff.
Its score of 29 percent is just below the overall world score of 30 percent but far behind that of North America. That ranking is expected to slide next year because of the recent resignations, according to Danae Kyriakopoulou, head of research at OMFIF.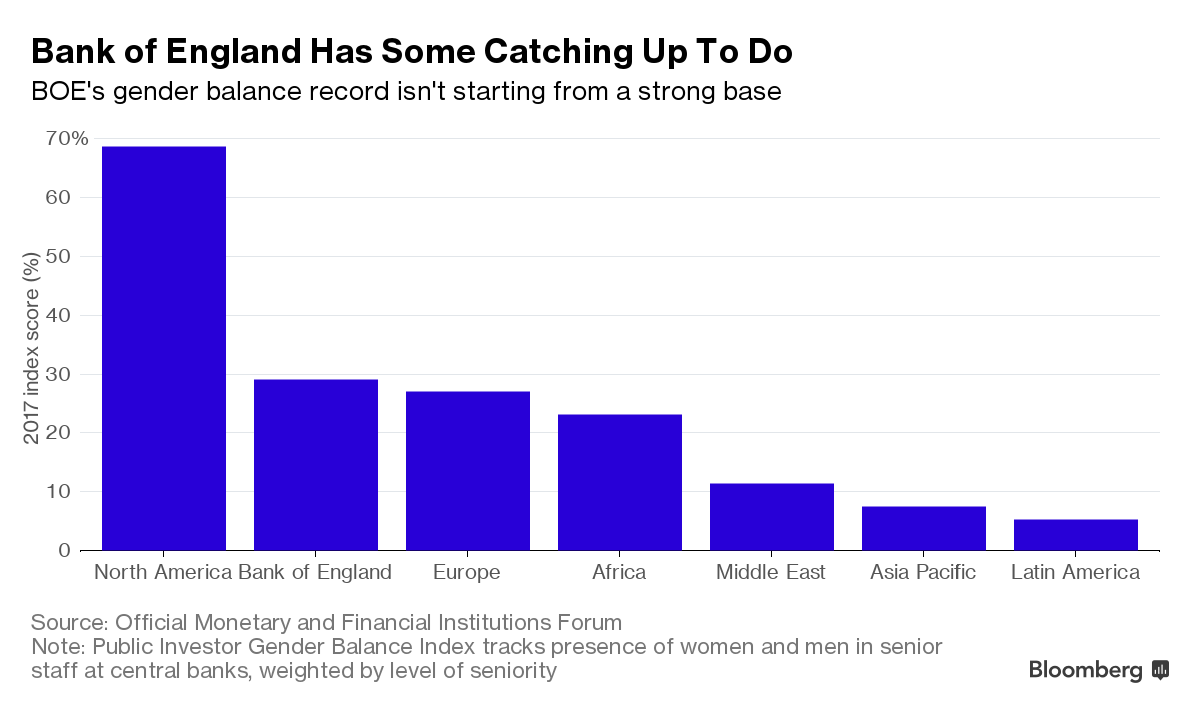 If Shafik, Hogg and Forbes' positions are filled by men, the index would fall to 13 percent, a similar score to that of central banks in Lebanon, Australia, India and Sierra Leone.
"Gender by itself should not be the key factor when selecting their successors, but it should be one that is at least considered," Kyriakopoulou said. "The benefits of gender balance in executive positions in institutions such as the Bank of England are wide-ranging, from providing role models for younger women in the world of central banking to the more practical aspect of risk-taking."
In the euro area, the European Central Bank has a target for 28 percent of senior management positions to be held by women by the end of 2019, and 35 percent of all managers. The figures at the end of 2016 were 18 percent and 27 percent, respectively.
All of which begs the question of whether central banking in general, and the BOE in particular, has a culture problem. While Hogg had little choice but to quit, her female colleagues chose to leave voluntarily and, in the case of Shafik, earlier than planned.
The need for multiple high-level recruitments comes at an awkward time. The BOE is focused on balancing its policy stance in an environment complicated by Brexit and a slump in the pound. Treasury staff are likely to find their room for maneuver limited until after the snap general election called for June 8.
Internal employees who might be able to step up include head of prudential policy Vicky Saporta, executive director for international banks supervision Sarah Breeden, human resources executive director Joanna Place and legal chief Sonya Branch.
But Carney could be facing the prospect of months running his institution with shortage of both staff and female insight.
When it comes to the recent slew of resignations, "I would put it down to bad luck," Pryce said. "But the bank definitely needs to look at this to not find themselves in a position again where there aren't enough women to choose from from within the organization."
Source: http://www.bloomberg.com/