French assets surged after a win for centrist Emmanuel Macron and nationalist Marine Le Pen in the first round of the nation's presidential election provided a market-friendly outcome.
The CAC 40 index of shares jumped to its highest level since 2008, boosted by gains in the country's banks, while the yield spread between French 10-year securities and benchmark German bunds narrowed to the lowest since January. A place for Macron in the second round avoids investors' nightmare scenario of a contest between the anti-euro Le Pen and the Communist-backed Jean-Luc Melenchon.
The euro surged to its strongest level against the dollar since November before paring some of its gains as focus shifted to a proposed U.S. tax cut.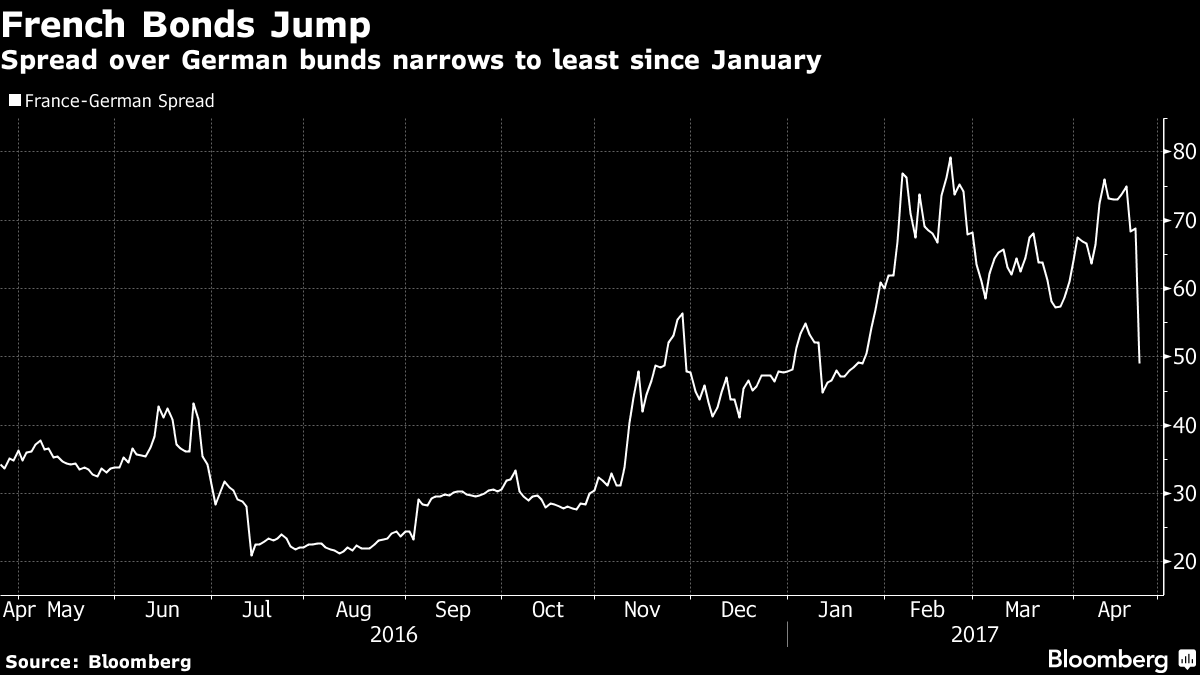 "The outcome of the second round remains unclear, but the "Macron—Le Pen" configuration is seen as the most market friendly and this has been reflected in the investor reaction so far," said Vincent Juvyns, global market strategist at J.P. Morgan Asset Management, which oversees $1.8 trillion globally. "Macron is seen by many investors and policy makers as pro-EU, moderately reformist and fiscally responsible, so it is not surprising to see a relief rally in equity, foreign-exchange and fixed-income markets in response to his strong first round showing.
Macron, a first-time candidate and political independent, had 23.8 percent in Sunday's election and National Front leader Le Pen had 21.5 percent, according to results from the Interior Ministry based on 97.4 percent of votes counted. The result lowers risk for the euro zone after a year of polling upsets and political turmoil driving currency volatility, from the U.S. elections to Italian and British referendums.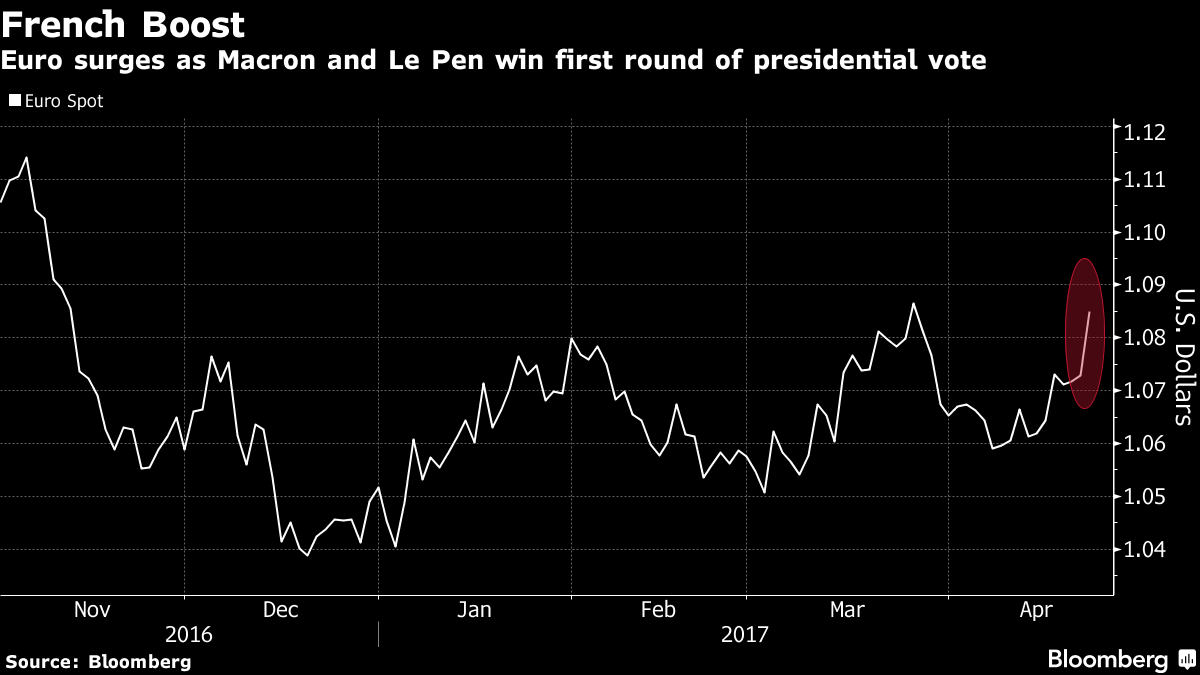 French 10-year bond yields fell 10 basis points to 0.84 percent as of 11:23 a.m. in London, after touching 0.83 percent, the lowest level since Jan. 18. The spread versus German bunds narrowed 19 basis points to 50 basis points, having earlier reached 47, the least since Jan. 26.
Fast-money accounts were seen covering shorts in French bonds, with hedge funds selling in Treasuries, said one trader in Europe, who asked not to be identified as they weren't authorized to speak publicly.
The euro climbed 1.3 percent to $1.0864, after reaching $1.0937. Hedge funds were seen fading euro gains above $1.09 and have more offers in place at $1.0975 and above $1.10, said traders in London, who asked not to be named because they weren't authorized to speak publicly. Europe's shared currency jumped 2.4 percent to 119.71 yen.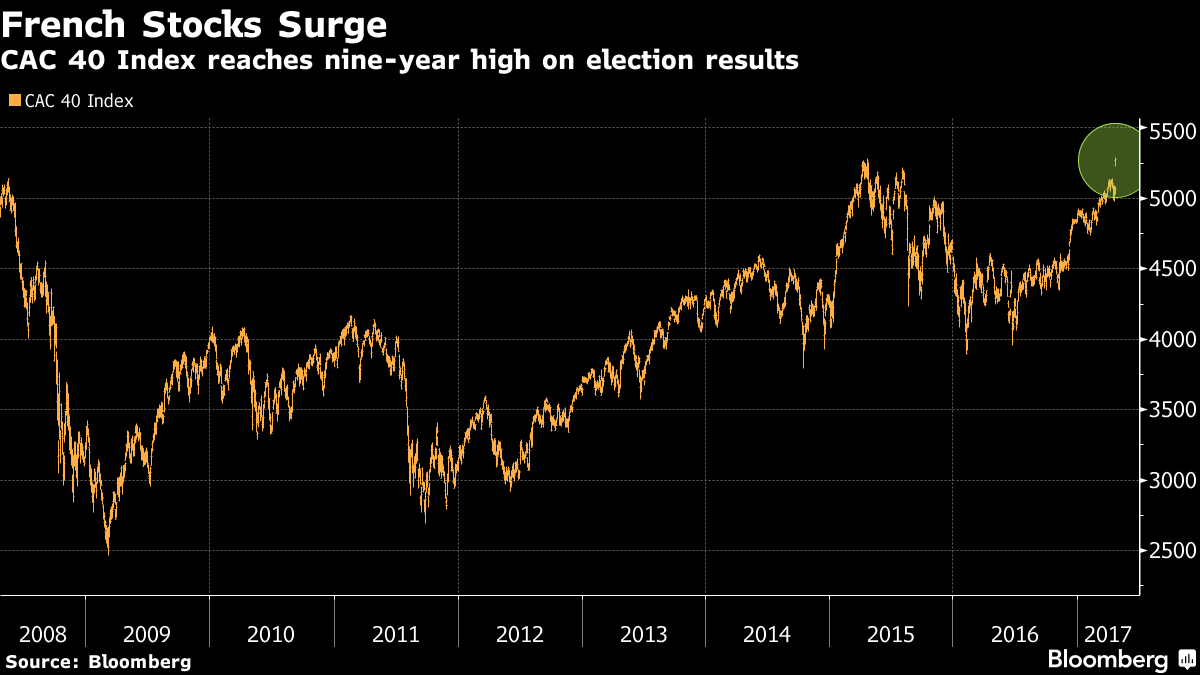 The cost of insuring against losses on French banks' junior debt fell by the most in almost seven years, CMA data show. Credit-default swaps on Credit Agricole SA's subordinated bonds declined 44 basis points to 146 points, BNP Paribas SA's contracts tumbled 53 basis points to 155 points and those of Societe Generale dropped 54 basis points to 162 points.
Investor attention will now turn to the second round of voting, for which Le Pen has trailed Macron in most opinion polls by a margin of some 20 percentage points. If Le Pen were to produce an upset and become president, the euro would tumble to a 15-year low to below parity with the dollar, in a reaction similar to that seen in the pound following the U.K.'s Brexit vote, according to economists surveyed by Bloomberg.
"All the polls are saying Macron's got a lead of 20 percentage points in the second round and that's held steady," said Lyn Graham-Taylor, a rates strategist at Rabobank International in London. "The only slight concern is that about 40 percent of the first round voters went for the populist-type candidates between Le Pen and Melenchon."
Analysts' Comments:
"French government bond markets will be feeling relief as at least one mainstream candidate remains to contest the French election," writes Craig Inches, head of short rates and cash at Royal London Asset Management 

"We have already seen a tightening in the spread between Bunds and OATs, with 10-year maturities significantly tighter by 15bps in early trading"
"However, French debt is unlikely to escape the bonfire of volatility just yet. Should Macron take victory in the second round, the long-term question of whether European government bond prices, particularly in longer-dated assets, represent fair value remains to be seen"

"The fact that the identity of the two opponents in the second-round run-off is now clear probably spells significantly less uncertainty for financial markets," said Christoph Kutt, head of rates strategy at DZ Bank AG 

"Financial markets are already showing some relief in reaction to the news: Bund yields are rising while EMU spreads, above all on debt instruments issued by the periphery, are narrowing," he wrote in a client note 
"It seems quite conceivable that this development could carry on for some time to come because risk premiums, which have spiked up in recent weeks in response to the uncertainty over the election in France, might at least in part unwind again"

A decrease in the probability that investors assign to Le Pen becoming president or to a break-up of the euro area that is close to its lows in July 2014 could push the EUR higher versus the USD and the JPY, pushing EUR/USD close to $1.13, Silvia Ardagna, strategist at Goldman Sachs said in a note to clients
"EUR and risk sentiment could remain supported at the start of the new week. Unwinding of pre-election hedges could boost the outlook for the single currency against safe havens JPY and CHF," said analysts at Credit Agricole including Valentin Marinov in a client note

"EUR/USD could remain close to the highs of the year as well. That said, we note that a gap has opened between the elevated FX spot and the still relatively low EUR-USD 2Y rate spread"
EUR/USD could remain supported also given the lingering uncertainty about President Trump's tax reform and ahead of the Friday's vote in the U.S. congress on the continuing resolution to avoid a potential government shutdown, they write
Source: http://www.bloomberg.com/