One of the biggest beneficiaries of Donald Trumps plan to build a wall on the Mexican border might be a company from south of the Rio Grande: Cemex SAB.
The largest cement maker in the Americas would be best positioned to profit from such a large construction project, according to a report by Sanford C. Bernstein & Co. Other likely beneficiaries include another Mexican company Cemex owns a stake in, Grupo Cementos de Chihuahua SAB, as well as Martin Marietta Materials Inc., Vulcan Materials Co. and CalPortland Co.
The project would enrich suppliers of building materials in the border region, Bernstein analysts led by Phil Roseberg wrote in the report. The wall proposed by the presumptive Republican presidential nominee would probably emulate the design of a barrier separating Israel from the West Bank, much of which was built with precast concrete panels, they said. The potential cost of the wall with Mexico: $15 billion or more.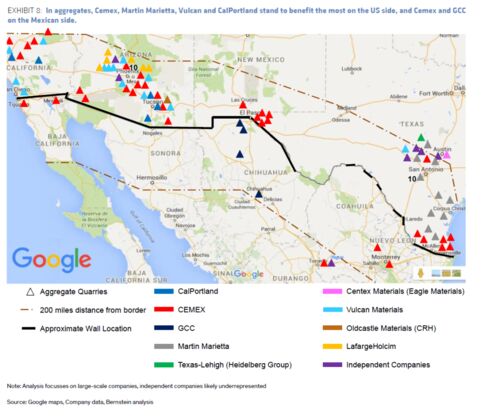 As ludicrous as The Trump Wall project sounds (to us at least), it represents a huge opportunity for those companies involved in its construction, Roseberg said in the report. Despite arguments concerning which government will pay for construction, the large quantities of materials required may necessitate procurement from both sides of the border.
Jorge Perez, a spokesman for Monterrey, Mexico-based Cemex, declined to comment, as did Vulcan. Representatives of Martin Marietta and CalPortland, a unit of Japans Taiheiyo Cement Corp., werent immediately available to comment.
Construction Challenges
Roseberg and his team said the wall project would be a challenging feat of construction, requiring roads to be built just to get access to areas in which the international boundary passes through desert or mountain terrain. Cemex has cement operations on both sides of the border.
It is not economically feasible to transport heavy building materials over large distances, the team said. As such, it is the companies with production facilities closest to the border that stand to gain the most as suppliers to The Trump Wall project.
Building the wall would require about 7 million cubic meters of concrete, which could cost more than $700 million at current prices, they said. Thats based on the assumption that the structure would extend 1,000 miles, rise 40 feet and reach seven feet underground, and have a thickness of 10 inches.
We have assumed that planning and land acquisition would take 1-2 years with a further 2 years for construction itself, they said. This means that the impact on demand for materials would occur from 2018 at the earliest.
Source: http://www.bloomberg.com/