International Finance Corp. and the Canadian government helped fund a $76 million solar power project in Jordan, which is seeking to curb its reliance on expensive natural gas imports and fuel a growing population.
IFC, a member of World Bank Group, arranged the financing package for a 50-megawatt project in the city of Mafraq, northern Jordan, which also includes support from Dutch development bank FMO, Europe Arab Bank and FinnFund, according to an e-mailed statement from IFC released Sunday.
Developed by San Francisco-based Fotowatio Renewable Ventures Inc., a unit of Saudi Arabias Abdul Latif Jameel Energy & Environmental Services, the plant is due to come online in 2018 and is the first to secure financing of four winning bidders from the governments latest solar auction round.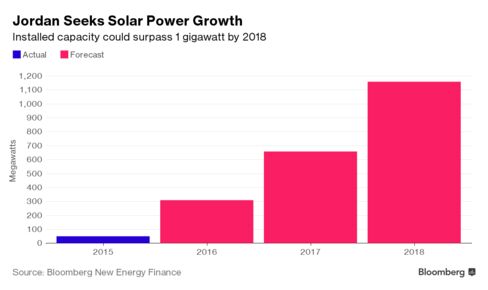 Jordan has an ambitious agenda for renewable energy, spurred partly by a massive influx of refugees from neighboring Syria straining the nations infrastructure. An energy-supply crunch caused by disruptions of fuel imports from Egypt has also tested the country. Jordan is expected to reach 310 megawatts of installed photovoltaic capacity at the end of this year, up from 50 megawatts in 2015, according to Bloomberg New Energy Finance.
With some consumers paying as much as 40 cents per kilowatt-hour for their energy currently, the solar projects will help cut costs. All four 50-megawatt projects that won contracts in the second auction round will deliver power at between 6.1 cents a kilowatt hour and 7.7 cents a kilowatt-hour, according to BNEF.
As well as $76 million from the IFC and the government of Canada, the Dutch development bank FMO provided $12 million, Europe Arab Bank provided $8 million, FinnFund provided $5 million and the IFC-Canada Climate Change program contributed $2.4 million in a C-loan, according to the statement.
Privately-owned power companies, with their expertise and financial clout, have a vital role to play in bringing new generation capacity online at a lower cost which in turn will help the government to provide Jordans economy with the energy it needs to grow, said Mouayed Makhlouf, IFC director for the Middle East and North Africa, in the statement.
Growing renewable energy production like solar power is part of an effective strategy to address climate change, said Catherine McKenna, Canadian minister of environment and climate change.
Source: http://www.bloomberg.com/