India said it attacked terrorist camps just across the border in Pakistan, the biggest military escalation since a standoff 17 years ago, as Prime Minister Narendra Modi retaliated for a deadly strike against Indian soldiers earlier this month.
Domestic pressure had been building on Modi to take a tough stand over rising violence in the disputed region of Kashmir, including through non-military measures such as reviewing a 1960 water-sharing treaty. The main opposition Congress Party supports the governments actions against terrorism, leader Sonia Gandhi said in a statement.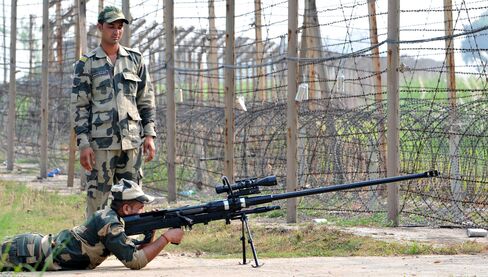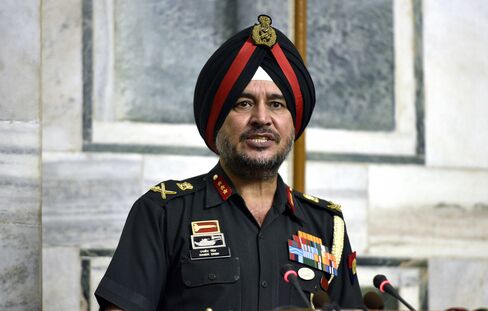 Heavy casualties were inflicted in surgical strikes late Wednesday on militants assembled to infiltrate India, Director General of Military Operations Ranbir Singh said in a briefing in New Delhi. The operations have ended and no more are planned, he said, without elaborating.
Pakistans army rebuffed Indias announcement, calling the claim of surgical strikes an illusion.
"There has been no surgical strike by India, instead there had been cross-border fire initiated and conducted by India," it said in a statement. "Pakistan has made it clear that if there is a surgical strike on Pakistani soil, same will be strongly responded."
For an explainer on turmoil in Pakistan, click here.
While both nations nuclear weapons deter all-out war, Modi was probably frustrated after Pakistani Prime Minister Nawaz Sharif rebuffed several diplomatic overtures, said C. Raja Mohan, director at the Carnegie India think-tank in New Delhi. Sharif in 2013 became Pakistans first leader to win power in a democratic transfer, but the nation has been ruled for almost half of its history by the military, which still wields great influence.
"There will be repercussions," Mohan said. "And the management of the repercussions will be the next challenge. Now lets see what they do. The ball is in Pakistans court."
Pakistans army is capable of defending its borders, Sharif said on television after Indias announcement. He condemned firing across the de facto border that he said killed two Pakistani soldiers. Pakistans cabinet will meet Friday to discuss the "Indian aggression," Radio Pakistan reported.
Kashmir Attack
Twitter: Richard Frost on Twitter
Tensions between the nations, who have fought three wars since 1947, have risen since a Sept. 18 assault on an Indian army camp in Kashmir that India blamed on Pakistan, though Pakistani leaders denied involvement. The attack left 18 Indian soldiers dead.
China hopes issues between India and Pakistan are settled through dialogue, Foreign Ministry spokesman Geng Shuang said Thursday at a regular briefing. U.S. National Security Adviser Susan Rice called her Indian peer Ajit Doval on Wednesday, condemning the Sept. 18 "cross-border" attack and reiterating Americas expectation that Pakistan act against terrorists, the White House said in a statement on Wednesday.
We believe that continued communication is obviously important to reduce tensions, U.S. State Department spokesman John Kirby said Thursday. Weve repeatedly expressed our concerns regarding the danger that terrorism poses to the region and we all know that terrorism in many ways knows no border.
Modi this week canceled a planned visit to Islamabad in November for a regional summit, and next week is due to review Indias most favored nation trade status for Pakistan, although trade between the two nations is small. Indian Home Minister Rajnath Singh has asked local governments to evacuate villages along the border, according to a statement from the office of Prakash Singh Badal, chief minister of the Indian state of Punjab.
"There is an escalation while global powers are asking both countries to sit and resolve the Kashmir issues," said Rashid Ahmed Khan, professor of international relations at the University of Sargodha in Pakistans Punjab province, adding that both countries will probably calm down and move toward talks. "What India and Pakistan are doing to each other is to satisfy domestic constituencies and compulsions by taking hard positions.
Rupee Decline
Indias rupee fell 0.6 percent to 66.8550 per dollar in Mumbai, halting a five-day gain. The benchmark S&P BSE Sensex dropped 1.6 percent. Pakistans benchmark equity gauge closed down 0.2 percent, erasing gains of as much as 1.3 percent earlier.
The tensions could sour sentiment for foreign investors who have pumped the most money into Indian stocks and bonds this quarter since March 2015. The latest military offensive is the worst since 1999, when then-Prime Minister Atal Bihari Vajpayee — also a member of Modis nationalist Bharatiya Janata Party — responded to cross-border infiltrations by militants and Pakistani soldiers in Kashmir.
The region is held equally by India and Pakistan but claimed in full by both. Terrorist violence killed 201 people in Kashmir in 2016, the deadliest year since 2010, according to the South Asia Terrorism Portal.
Indias announcement of the targeted strikes on terror camps in Pakistan is "very significant," said Shashank Joshi, a fellow at the Royal United Services Institute in London.
"India has conducted covert, retaliatory cross-border raids on many occasions in the 1990s and 2000s, but to prominently announce them is a provocative new approach," he said in an e-mail. "Depending on how far the Indians penetrated and the nature of the targets, these might also represent much more ambitious operations."
Read more: http://www.bloomberg.com//news/articles/2016-09-29/india-attacked-pakistan-terror-camps-says-no-more-ops-planned