Scotch whisky producers from the windswept shores of Islay to the banks of the River Spey have won devoted followers with offerings that emphasize the character of the grains and water that make up their spirits, helping quadruple global sales to more than $5 billion over the past three decades. Distillers across the Irish Sea have lagged in the hype sweepstakes, mostly offering blended variants—think Johnnie Walker rather than more exclusive Scottish single malts.
Led by Jameson Irish Whiskey (Ireland spells it with an e while Scotland doesn't), producers today are bolstering high-end offerings to conjure up the aura of exclusivity that has burnished Scotch's image. Jameson—which holds 70 percent of the global market for Irish whiskey, with 2016 sales of $730 million—last spring reopened its historic distillery in Dublin after an €11 million ($13 million) renovation. The facility takes a page from the Guinness Storehouse, the venerable brewery across the River Liffey that attracted 1.6 million visitors last year. Although Jameson's facility hasn't produced whiskey since 1971, tourists there can taste the goods and attend classes on, say, pairing whiskey with sherry sorbet or the proper way to add lemon zest to a cocktail. Under chandeliers made from Jameson bottles, they sample flights of the company's products and peer through a glass floor to cellars where whiskey was once aged. Jameson has succeeded with "a very approachable, consistent type of whiskey," says Jean-Christophe Coutures, chief executive officer of Irish Distillers, Jameson's parent and the whiskey arm of France's Pernod Ricard SA. "What we need to do now is go to the next level."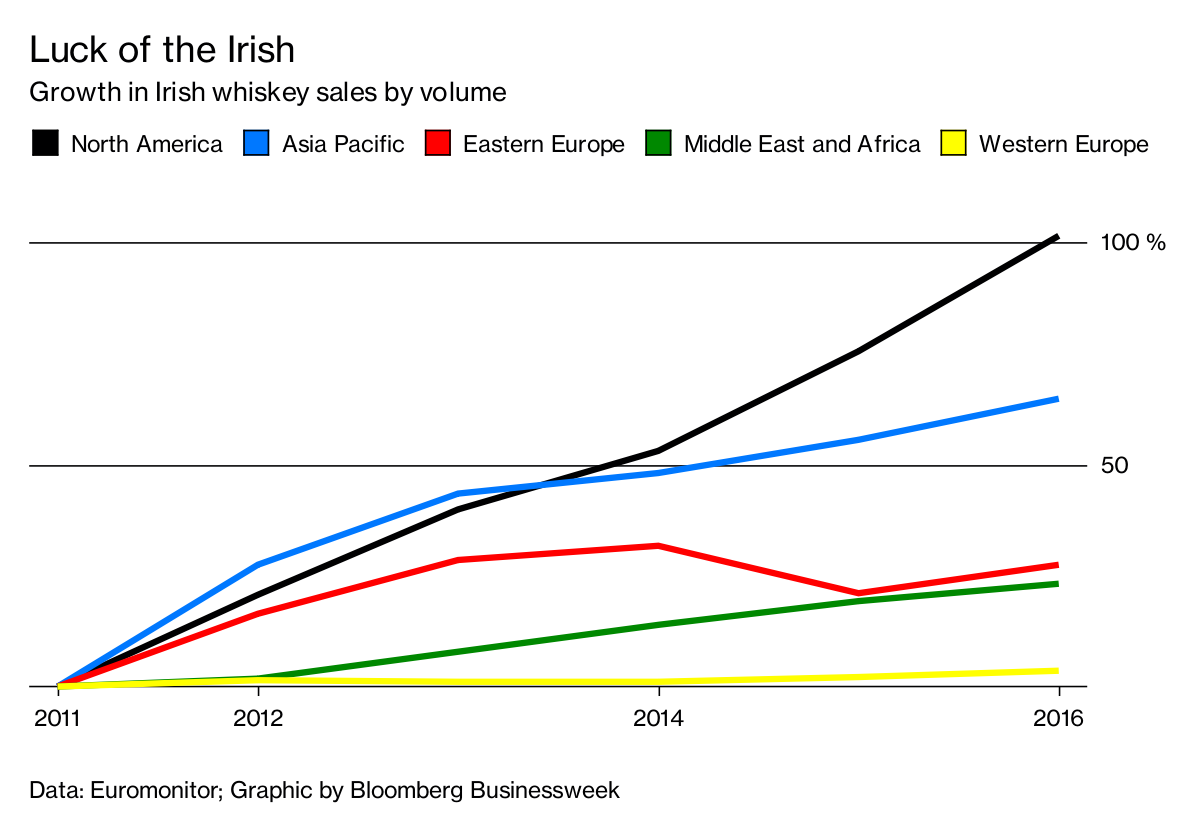 With the Irish Whiskey Association predicting the market will quadruple by 2030, Jameson faces a raft of competitors. Diageo Plc, the world's largest distiller and owner of Guinness, in January introduced a whiskey called Roe & Co after selling the Bushmills brand to tequila specialist Jose Cuervo two years earlier. In September, Brown-Forman Corp., the owner of Jack Daniel's, started selling Slane Irish Whiskey, produced in partnership with the family that owns Slane Castle, a 1,500-acre estate in County Meath. And more than a dozen smaller groups such as Sliabh Liag and Lough Gill, in northwestern Ireland, and Cape Clear Distillery, on an island off the southern coast, have sought permission to produce spirits, the Irish Whiskey Association says. "As Jameson's had such runaway success, the high end of Irish whiskey has been somewhat ignored," says Trevor Stirling, an analyst at Sanford C. Bernstein & Co. "A little more competition might spur them on."
To see Jameson's answer, drive three hours south of Dublin to Midleton, a town of 12,000 in the verdant hills of County Cork that has been Ireland's distilling center for two centuries. At its 170-acre complex of weathered stone buildings there, Jameson next year plans to open what it calls "the Temple," where it will sell and store hundreds of barrels filled with whiskeys tailored to individual tastes. A 200-liter bespoke cask will sell for an average of €90,000, and the company says the price could reach €400,000 depending on the whiskeys included in the mix. Brian Nation, master distiller at the site, says he'll work with customers to craft their special blend, noting that the flavors will evolve as the mix ages in wooden casks once filled with wine, sherry, or bourbon. "One of the beauties of oak is that nobody fully understands how maturation works, which adds a little more to the wizardry and mystique of whiskey making," Nation says as he draws a 26-year-old sample from a barrel in one of Jameson's dozens of dimly lit stone warehouses.
Irish Distillers owns a half-dozen other whiskey brands, each aimed at a particular niche. Redbreast is a higher-end label with 12-, 15-, and 21-year-old versions. Green Spot offers a variant aged in sherry casks from a Bordeaux winery. Method & Madness includes a 31-year-old single grain whiskey that costs about $1,800 a bottle. And to boost Jameson's worldwide appeal, it's teaming up with craft brewers such as Angel's City in Los Angeles, Great Divide in Denver, and DevilCraft in Tokyo to create local variants of what it calls Caskmates—whiskey aged in barrels the brewers have used to store their beers. Jameson saw "double- or triple-digit growth" in more than 70 countries last year, Irish Distillers chief Coutures says. "My biggest challenge is to make sure this momentum remains."
BOTTOM LINE –
With sales of Irish whiskey expected to quadruple by 2030, Jameson is leading producers in a push to capture some of the marketing magic that has benefited Scotch.
Source: http://www.bloomberg.com/