A flood of data the day after the Bank of Japan held its monetary policy unchanged indicates that the modest recovery in the world's third-largest economy is continuing for a fifth quarter, yet inflation largely refuses to budge.
Key Points
Consumer prices excluding fresh food, the core measure for inflation, increased 0.2 percent in March from a year earlier (forecast 0.2 percent).
The unemployment rate for March was 2.8 percent (forecast 2.9 percent).
Industrial production fell 2.1 percent in March from the previous month (forecast -0.8 percent).
Retail sales climbed 2.1 percent from a year ago (forecast 1.5 percent).
Big Picture
The central bank has been unable to reach its target of stable 2 percent inflation despite four years of stimulus from Governor Haruhiko Kuroda. With only subdued inflation, workers have not seen significant pay hikes, meaning household spending has been weak. On the other hand, industrial production been increasing, thanks to a pick up in external demand, with the central bank saying the economy was in an expansion for the first time in about nine years. This has led to high corporate profits.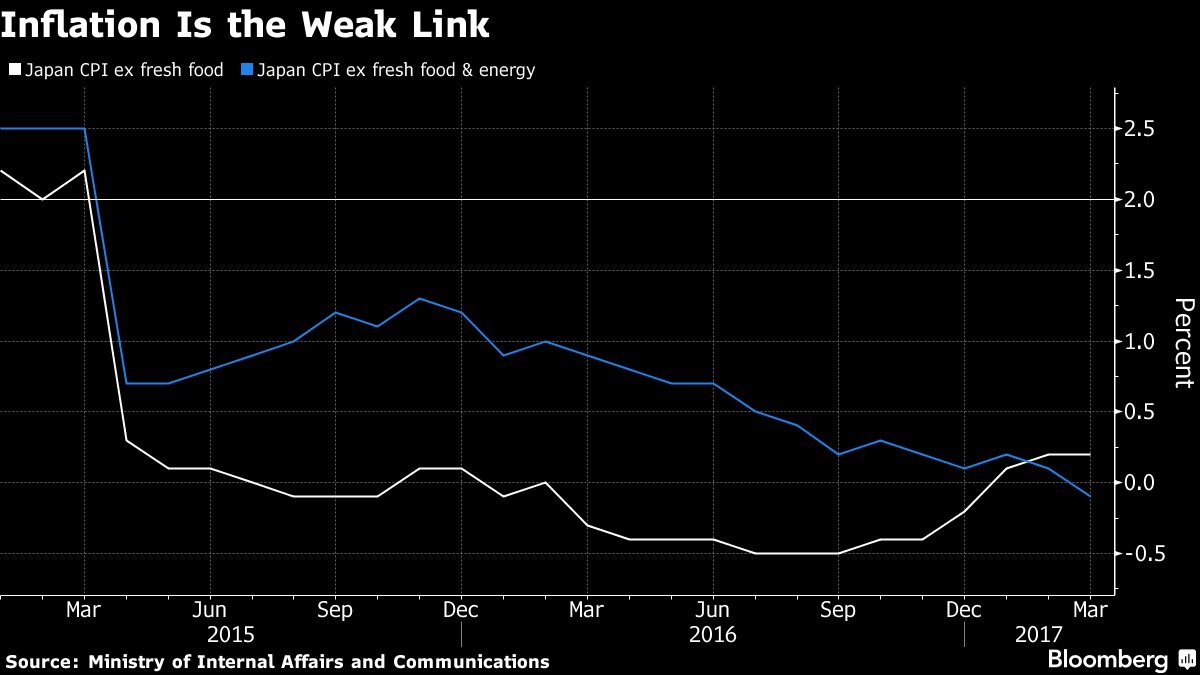 Economist Takeaways
"The employment situation is definitely strong, while wage and income growth are still quite depressed," Takashi Miwa, chief economist at Nomura Securities Co. in Tokyo, said on Bloomberg TV. "This is why consumption demand is still quite weak." 
"The most important point is that wage gains are weak," said Takeshi Minami, chief economist at Norinchukin Research Institute. "The problem will loom over the prospects of raising a sales tax down the road."
The Details
Overall consumer prices rose 0.2 percent from a year earlier (forecast 0.3 percent).
The job-to-applicant ratio was 1.45 (forecast 1.43).
Household spending year-over-year slipped 1.3 percent (forecast -0.5 percent).
Retail sales rose 0.2 percent on a monthly basis (forecast -0.3 percent).
Source: http://www.bloomberg.com/