Japanese shares drove gains in Asia, while emerging-market currencies retreated as investors shifted focus to Fridays key U.S. jobs data and crude oil traded near a two-month low. Demand for haven assets eased.
The Topix index snapped a three-day decline in Tokyo, rebounding from its lowest point this year as equities elsewhere in the region fluctuated. U.S. crude traded below $46 a barrel following Thursdays 4.8 percent tumble. While gold fell, it was still poised for a sixth straight weekly climb, the longest run of gains in two years. The South Korean won and Malaysian ringgit retreated as currencies in Australia and New Zealand advanced. Markets in Taiwan are shut Friday and flights have been canceled as a typhoon nears the island.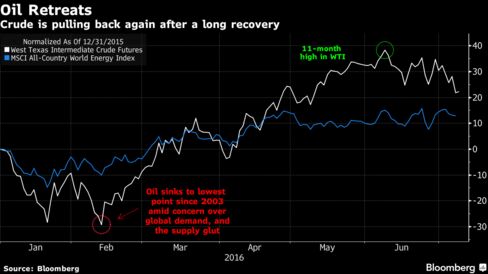 While anxiety over the potential fallout from the U.K.s decision to leave the European Union has flared again in markets this week, attention is being redirected to Fridays payrolls report amid speculation the June data will be key to determining whether the Federal Reserve is likely to raise interest rates this year. Officials at the U.S. central bank flagged concern over job creation at their last meeting, which was held before the British referendum roiled trading globally. Oil slumped Thursday as American government data showed crude stockpiles there declined last week less than analysts had expected.
Investors will find it difficult to make a move ahead of the U.S. data, Masayuki Doshida, a senior market analyst with the Rakuten Economic Research Institute in Tokyo, said by phone. The U.S. economy is fairly stable, so well looking at whether the extreme drop in the jobs data last month was a temporary thing. In order to figure out when the next rate increase will be, any revisions to last months data will also be in focus.
Employers in the U.S. probably added 180,000 workers to nonfarm payrolls last month, according to the median of economists estimates compiled by Bloomberg. The data comes after an unexpectedly weak 38,000-person increase for May that damped expectations for imminent rate hikes from the Fed. The Brexit vote also took an ax to bets on policy tightening in 2016, with odds on an increase by December at just 12 percent.
Stocks
The MSCI Asia Pacific Index added 0.1 percent as of 10:08 a.m. Tokyo time, paring its drop in the week to 0.4 percent. Consumer-discretionary shares led gains, while energy stocks decreased.
The Topix climbed 0.4 percent, trimming its weekly decline to 1.9 percent, while the Kospi index in Seoul swung between gains and losses along with Australias S&P/ASX 200 Index. New Zealands S&P/NZX 50 Index fell 0.1 percent following a nine-day rally that has helped the gauge up 1.1 percent this week, its second consecutive weekly advance.
Futures on the S&P 500 Index rose less than 0.1 percent to 2,093.25 following the underlying benchmarks 0.1 percent decline on Thursday. In Hong Kong, contracts on the Hang Seng and the Hang Seng China Enterprises indexes were down at least 0.4 percent in most recent trading as FTSE China A50 Index futures fell 0.1 percent.
Thailand reports on foreign reserves Friday, and Taiwans trade figures will land as scheduled despite the incoming storm. Markets in Indonesia remain closed for holidays.
Currencies
The won weakened for the fourth time in five days, losing 0.3 percent as oils losses sent the ringgit down as much as 0.7 percent early Friday.
Meanwhile, the Aussie and the kiwi gained at least 0.3 percent. New Zealands dollar built on last sessions 1.4 percent climb after the countrys central bank indicated it may boost lending limits on property investors amid a housing boom. The comments, made by Deputy Governor Grant Spencer, have damped bets on a rate cut at next months meeting.
The yen pulled back for the first time in four days, retreating 0.1 percent to 100.87 per dollar as Japanese shares rallied. The currency is up 1.6 percent this week, its third weekly increase in a month.
The Bloomberg Dollar Spot Index, which tracks the greenback against 10 major peers, was down less than 0.1 percent after gaining 0.1 percent on Thursday.
Commodities
West Texas Intermediate crude added 0.9 percent to $45.55 a barrel, after sliding to its lowest settlement price since May 10 last session. Brent climbed 1.1 percent to $46.91, still headed for a 6.8 percent slump in the week, its worst weekly performance since January.
Oil prices sold off Thursday after government data showed crude stockpiles fell by 2.2 million barrels last week, less than the 2.5 million-barrel decline forecast by analysts, as well as the 6.7 million drop reported by the industry-funded American Petroleum Institute. U.S. production fell 194,000 barrels a day, or 2.3 percent, to the lowest level since May 2014.
We have been seeing pretty consistent declines in crude oil inventories and, with regards to that end of the market, that is pretty positive, Angus Nicholson, a markets analyst in Melbourne at IG Ltd., said by phone. Oil inventories declined a lot less than the API inventories number was predicting, and that may have disappointed the markets somewhat.
Gold for immediate delivery dropped 0.3 percent to $1,355.86 an ounce after snapping a six-day rally with a 0.2 percent decline on Thursday. The precious metal is still up 1.1 percent this week,
Read more: http://www.bloomberg.com/news/articles/2016-07-07/most-asia-futures-tip-losses-after-oil-slump-yen-gains-in-week