To get a snapshot of a budget in crisis, visit any of the 10,700 abandoned construction sites that litter Russia, all thats left after a trickle of state funding ran dry.
The costly clutter is one reason the head of the Audit Chamber, a government agency that monitors the budget, says Russias finances are in for a test next year. Tatyana Golikova, 50, whose prior roles included a top Finance Ministry post and advising President Vladimir Putin, paints a picture of a budget riddled with waste, ranging from 1 trillion rubles ($16 billion) lost as a result of budget inefficiency to the unfinished construction thats left the government on the hook for another 2.2 trillion rubles.
The worlds biggest energy exporter can ill afford to squander more wealth as it adapts to the lean days after the crash in crude prices. Whats visiting fiscal grief on Russia is that its budget is derived from an old base formed during the boom times, according to Golikova, who took charge of the watchdog three years ago.
The budget faces a clear test in 2017, she said in an interview. If the issue of fiscal efficiency isnt dealt with in the new three-year cycle, well have all the same problems that existed with budget execution in 2015 and probably will continue in 2016.
Deficit Outlook
Already running its widest deficit since 2010 this year after oils collapse, Russia is preparing its budget for the next three years after the Finance Ministry proposed a fiscal gap of 3.2 percent of gross domestic product in 2017, compared with about 3 percent in 2016. It then plans to reduce the shortfall by one percentage point each year to balance the budget by 2020.
In the long term, the goal is achievable through structural reform of the pension system, health care and education, alongside consolidating and streamlining public finances, according to Golikova. Attempting it in three years is less realistic.
Reaching zero deficit in three years cant be done, she said. The current changes arent institutional in character, with a lot of attention on spending and industry lobbyism but no interest in mobilizing revenue.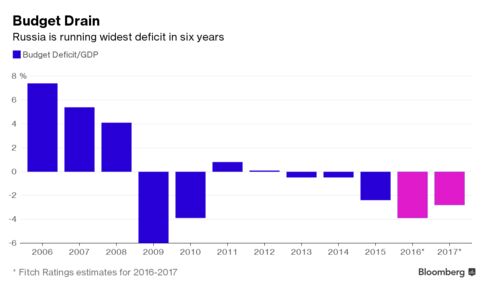 Golikova straddles an ideological divide within the Russian government between proponents of fiscal rigor and advocates of looser spending on social needs. A veteran of the Finance Ministry, where she started out in 1990 before the Soviet Union collapsed, she rose through the ranks to become a first deputy to then-Finance Minister Alexei Kudrin. Putin named her to lead the Health Ministry in 2007, where she took charge of reforming the social sector before leaving to become Putins aide in 2012.
Whats needed is tougher oversight of revenue, combined with more efficient spending, according to Golikova. Its the quality of such efforts that will determine the size of the deficit, she said.
The structure of spending needs to be seriously reworked to achieve a budget makeover, she said.
As she takes stock of Russias finances, Golikova sees the budget springing leaks wherever she turns. Examples of flaws in administering state funds include advance payments for projects that later stalled, which totaled 500 billion rubles as of July 1, or 130 billion rubles in cash allocated to state corporations and held by them unused. For areas clogged up for years with idling advance payments, the government needs to stop planning any budget outlays entirely, Golikova said.
A trillion-ruble loss from inefficiency is a cautious estimate, it may be more, she said.
Asset Sales
Privatization is another key area that needs improvement, according to Golikova. Authorities executed only 21 percent of their 2010-2014 program for asset sales, raising 256 billion rubles.
While Russia resumed its privatization program in July by selling a stake in Alrosa PJSC, the worlds largest rough-diamond producer, last month it delayed what would have been its biggest asset offering in a decade after renewed weakness in global oil markets and tensions among potential buyers upended plans to offer shares in a regional oil producer, Bashneft PJSC.
Theres a golden rule: a public authority should have only the property it needs to carry out its public functions, Golikova said. Everything else is a burden for the budget.
Wealth Funds
As the government contemplates depleting one of its two sovereign wealth funds already next year and tapping another, alarms are going off for Golikova, who calls the plans dangerous.
Her prescription is for officials to resume discussing a fiscal mechanism that would prevent the government from spending surplus revenue above a pre-set oil price, which Golikova says should use crudes current level. Any additional income at a higher price would be saved away.
Reserves need to be replenished, even if by a small amount, she said.
Source: http://www.bloomberg.com/