The Mexican peso led emerging-market currencies higher and stocks rebounded after the Federal Bureau of Investigation reaffirmed that Hillary Clintons use of private e-mail servers wasnt a crime, days before voters decide whether she should become U.S. president.
The peso, considered a barometer for investors views on her Republican rival Donald Trumps chances in the election, jumped 1.8 percent, the top performer among 24 emerging-market currencies. South Koreas won strengthened as the financial regulator said itll take measures to stabilize markets if needed. The nations stocks index rose the most in two weeks as a gauge of developing-nation equities climbed from a three-month low. Taiwans Taiex index posted its best gain since late September.
The FBI is sticking to its July conclusion that Democratic contender Clintons handling of her e-mails as secretary of state wasnt a crime, the bureaus director James Comey said after examining new material. Comey informed Congress just over a week ago that the FBI was looking at fresh e-mails potentially related to Clinton, a statement that roiled the presidential race and breathed new life into Trumps candidacy at a time most polls showed Clinton with a wide lead. Risk assets sold off as haven currencies like the yen and Swiss franc found favor.
The FBI announcement over the weekend has been positive for risk sentiment, said Divya Devesh, a foreign-exchange strategist at Standard Chartered Plc in Singapore. Given that we are quite close to the U.S. election now, investors might still exercise some caution given the uncertainty. So Asian currencies, in particular, might remain range-bound over the next couple of days.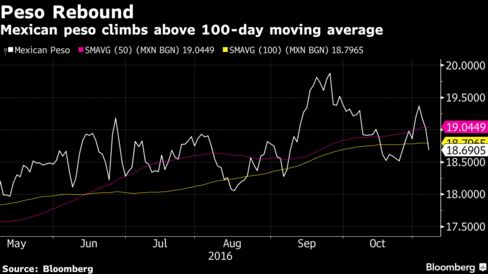 The won rose 0.2 percent, paring its decline over the last one month to 2.2 percent, according to prices from local banks compiled by Bloomberg. The Korean currency slumped to a four-month low last week amid an influence-peddling scandal involving President Park Geun-hye. It sank to 1,152.20 to the dollar on Nov. 2, the lowest since July, as she faces calls from the public to resign over allegations her long-time friend Choi Soon-sil meddled in government affairs.
More Volatility
Thailands baht dropped 0.3 percent to 35.079 to the dollar, headed for the biggest decline in two weeks. Malaysias ringgit weakened 0.1 percent to 4.2015.
Canadas dollar climbed 0.1 percent to C$1.3391 per dollar. Japans yen, a haven, fell 0.9 percent to 104.02 per greenback.
The peso rallied and yen plunged on speculation this mornings FBI announcement will reduce Donald Trumps odds of winning the U.S. Presidency, said Elias Haddad, a senior currency strategist at Commonwealth Bank of Australia in Sydney Low Asian liquidity looks to have exaggerated the moves in the two currencies. Nonetheless, U.S. political uncertainty ahead of Tuesdays Presidential elections will continue to generate dollar volatility as most swing-state polls suggest the election outcome will be a close call.
South Koreas government bonds retreated, with the yield on 10-year and five-year notes rising three basis points to 1.73 percent and 1.54 percent, respectively.
Read more: http://www.bloomberg.com//news/articles/2016-11-06/mexican-peso-soars-as-fbi-says-clinton-e-mails-weren-t-a-crime