Mexico started quietly buying contracts to lock in 2017 oil prices when futures were near their peak in June, signaling the start of what has in prior years been the worlds largest sovereign petroleum hedge, according to people familiar with the deal.
The Latin American country bought put options, which give it the right to sell crude at a predetermined price, in June and July, earlier than the usual period of late August to late September, said the people, who asked not to be identified because the process is private.
Brent crude, the global benchmark, peaked at nearly $53 a barrel in early June. Since then, prices have declined about $10 a barrel as the outlook for the global economy soured and OPEC countries boosted production. The people didnt say how much Mexico was able to hedge before prices fell back.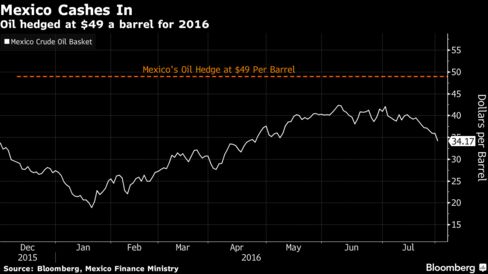 In response to a list of e-mailed questions, the Mexican Finance Ministrys press office declined to comment on the status or progress of Mexicos oil hedge negotiations.
The Latin American country has spent an average of almost $1 billion a year over the past decade buying put options through deals with banks that in the past have included Goldman Sachs Group Inc., Citigroup Inc., JPMorgan Chase & Co., Morgan Stanley, BNP Paribas SA, Barclays Plc and HSBC Holdings Plc, according to government documents. Mexicos annual hedge is the largest undertaken by a national government and often roils the market.
Mexico and its bankers try to keep the hedge under wraps as long as possible, to avoid others front-running the trade and making the insurance more expensive. In the past two years, however, some details of the hedge emerged because of new regulations introduced in the U.S. with the Dodd-Frank Act.
Dodd-Frank
The rules forced U.S. banks to report some details of the deal through public swap data repositories. But this year not a single deal bearing the marks of the Mexican hedge has emerged, and two of the people familiar with the program said Mexico and its bankers were using non-U.S. branches of the banks to bypass the reporting rules.
The move to hedge 2017 oil prices comes as Mexico stands to take in about $3 billion from this years hedge, which was put on from June to August 2015, if prices remain around current levels. That follows last years record payout of $6.4 billion.
Despite Mexicos hedging success — it received $5 billion in 2009 after oil prices plunged — few other commodity-rich countries have followed suit. Ecuador hedged oil sales in 1993, but losses triggered a political storm and the nation never tried again. More recently, oil importers Morocco, Jamaica and Uruguay have bought protection against rising energy prices.
Read more: http://www.bloomberg.com//news/articles/2016-08-12/mexico-said-to-begin-quietly-hedging-2017-oil-price-in-june