Oi SA filed for bankruptcy protection on 65 billion reais ($19 billion) in debt — a Brazilian record — after failing to reach an agreement with creditors, the last straw following a series of mergers and leadership changes that failed to help the phone company get on solid financial footing.
Brazils fourth-biggest wireless company sought protection from creditors so it could keep serving customers, the company said in a filing Monday. Talks with creditors had stalled last week after some board members disagreed with a plan by bondholders to swap debt for equity, giving them 95 percent of the company and leaving current shareholders with a 5 percent stake.
The filing is likely to have major repercussions in Brazil, since state-owned banks Banco Nacional de Desenvolvimento Economico e Social, Caixa Economica Federal and Banco do Brasil SA are among Ois top creditors, along with private banks such as Itau Unibanco Holding SA. Ois move is also set to trigger payments on a total of $14 billion in derivatives contracts designed to protect debt investors against a default, according to data compiled by Bloomberg.
Oi has about $1 billion in net outstanding credit default swaps, the data show. Typically that is the maximum that could be paid out, after accounting for offsetting trades.
Ois board decided to move ahead with the filing after determining that the company was unlikely to get approval from shareholders and debtholders for a voluntary exchange offer in time to make the next debt payment, according to two people familiar with the matter.
The board of Brazils telecommunications regulator, known as Anatel, was meeting Monday to analyze the impact of Ois bankruptcy filing, President Joao Rezende said in a text message. The agency controls licenses to operate telecommunications networks. Anatel is unlikely to intervene if Oi can keep providing good service to customers, the people familiar with the matter said, asking not to be identified discussing private information.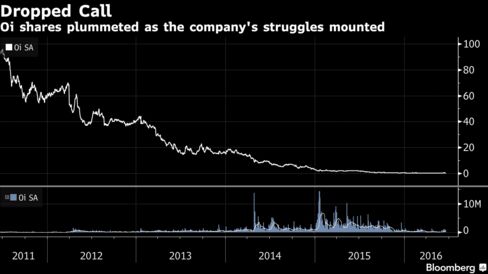 The 65 billion-real figure includes Ois 50 billion reais in bonds and bank loans, plus amounts owed to suppliers and other accounts payable.
Oi was under pressure to seek protection because it has a 231 million euro-denominated ($261 million) bond maturing in almost a month. The filing comes 10 days after Bayard Gontijo resigned as the companys CEO after disagreeing with some board members on how to proceed on negotiations with debt holders.
Gontijo took over in October 2014, replacing Zeinal Bava after the troublesome merger with Portugal Telecom, which contributed to Ois ballooning debt. He focused on improving the companys operations in 2015 and cut a deal with Russian billionaire Mikhail Fridman to help Oi finance a merger with Telecom Italia SpAs Brazilian unit. That agreement fell through in February.
Marco Schroeder was named to replace Gontijo earlier this month, becoming Ois sixth CEO in five years.
Ois top shareholders include Pharol SGPS SA — the Portuguese holding company of former Portugal Telecom shareholders — along with the Ontario Teachers Pension Plan, the state-owned development bank BNDES and BlackRock Inc., according to the phone companys website.
Negative Cash Flow
Oi had forecast it would finish the second quarter with total debt of 48 billion reais, with negative cash flow after interest of 2.5 billion reais. Cash flow after interest and before amortization is projected to be negative 7 billion reais between 2016 and 2018, according to the documents.
Oi also operates part of the countrys landline phone system, which has proven onerous — the company has a legal commitment to expand and maintain the obsolete network. It had about 5 billion reais of interest expenses in 2015, far more than the roughly 2.7 billion reais of operating income it had available to pay those costs, according to data compiled by Bloomberg.
The phone carrier got its start as Tele Norte Leste, a company formed through the merger of 16 state-owned companies when Brazils telecommunications industry was privatized in 1998. The company introduced wireless service in 2002. In 2010, it merged with Brasil Telecom Participacoes SA in a $3.52 billion deal, expanding its geographic coverage in Brazil but ballooning its debt.
Source: http://www.bloomberg.com/