Ready or not, here comes Rio de Janeiro. The Olympic games opened Friday with last-minute funding and an interim head of state, underscoring the economic and political turmoil gripping host country Brazil.
Ceremony organizers had to make do with a budget thats a fraction of the amount spent by 2012 Olympics host London. It wasnt enough; they needed eleventh-hour government funds to make ends meet, breaking Rio 2016s long-held promise for the event to be privately funded.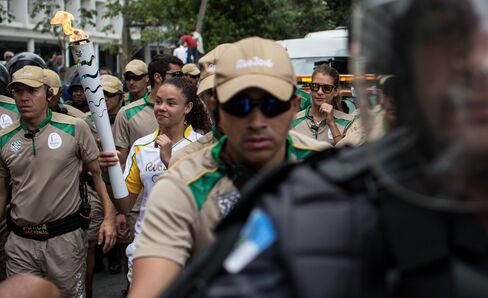 The cash crunch led to a scaled-down event. Plans to use high-tech gadgets, including drones, were dropped. Instead, ceremony planners used projectors and their knack for improvisation, a skill celebrated locally thats known as jeitinho. The budget was much below expected, said Daniela Thomas, one of the ceremonys creative directors.
The spirit of improvisation is important in Brazil. The translation would be MacGyver-ism, Thomas said, referring to a popular television series from the 1980s where the protagonist used ingenuity to resolve life-threatening situations. We dont have the means, but we have to do it, so we will.
The show at the iconic Maracana stadium kicked off Friday evening with a festival of song and dance to celebrate tolerance at a time of global instability, as well as the nature and ethnic diversity of South Americas biggest country. The ceremony, which will be televised with a delay in some countries, also featured a reminder about the perils of climate change. Estimates suggest that nearly half the worlds population will tune in to at least part of the four-hour event.
The local organizing committee has been on a cost-cutting drive for most of the past year to stick to a 7.4 billion-real ($2.3 billion) budget raised mainly through sponsorship sales and a grant from the International Olympic Committee. With less than 24 hours before the ceremony, Rio 2016 was forced to break a promise that no public funds would be used to stage the event.
We have overcome this financial problem, Eliseu Padilha, chief of staff to Brazils acting president, said Thursday. The federal and city governments are providing 270 million reais to cover the shortfall, according to his office.
The Olympics take place seven years after Rio beat out rivals including a Barack Obama-backed Chicago. Brazil was then riding high, a darling among investors with then-President Luiz Inacio Lula da Silva claiming our time has come. Brazil has since lost a hard-won investment-grade rating, and Lula has been embroiled in a massive corruption scandal. The country is mired in its worst recession in decades and political crisis has made interim president Michel Temer — who took office following the suspension of Dilma Rousseff — the nations representative at the Maracana.
Temer kept a low profile at the start of Fridays ceremony, after some of his aides expressed concern he would be jeered by spectators. The master of ceremonies broke with tradition and failed to introduce him after presenting the president of the Olympic Committee, Thomas Bach, as the festivities began. Standing next to Bach, Temer smiled and waved rather than deliver a brief speech to officially open the games, as was originally planned.
Tickets remain on sale for most events, a far cry from the enthusiasm which greeted the announcement when Rio was picked to host the games. Almost half of Brazilians are against hosting the Olympic games, according to a July poll of 2,792 people by Datafolha.
Source: http://www.bloomberg.com/