When Team USAs Kim Rhode won a bronze medal in skeet shooting Friday, she claimed a piece of Olympic history: the 37-year-old Californian became the first woman to take the podium in six straight Olympics.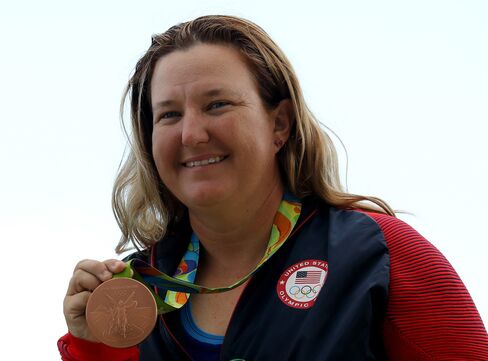 Landing a big-name sponsor might be the bigger feat. In the year leading up to Rio 2016, Rhodes agent Patrick Quinn pitched her to around 20 companies that back the Olympics. None were convinced.
The big mystery is how someone like Kim isnt part of the Coca-Cola, Procter & Gamble, and the Olympics sponsor push, Quinn said by phone from Chicago.It would be nice to have an Olympic sponsor recognize the magnitude of her accomplishment.
Coca-Cola Co. didnt respond to a request for comment, and Procter & Gamble Co.s spokesperson Damon Jones said in an e-mail the company receives hundreds of sponsorship requests so it must be selective. Rhode and other shooters on Team USA think the reason theyre passed over is obvious. The rise in gun violence and mass shootings in the US have attached a stigma to shooting as a sport, they say. So while companies like Winchester, Beretta and Otis Technology support Rhode, she doesnt have a single sponsor from outside the firearm industry.
The same is true for USA Shooting, even though the sport has since 2000 been the fifth-highest medal producer for the US team at Summer Olympics. The very first gold medal for any sport awarded in Rio went to 19-year-old Ginny Thrasher, competing in her Olympics debut.
Politics may only tell part of the story. American television audiences dont tend to watch
shooting or, for that matter, a number of other sports. The biggest challenge is limited exposure, said Peter Carlisle, head of the Olympic Sports and Action division at Octagon Worldwide. If the sport itself doesnt provide a consistent platform for the athletes to become recognizable and maintain relevance, theres limited value to a sponsor.
Whats more, noted Scott Becher, the executive vice president of sports and entertainment at Zimmerman Advertising, a lot of Americans own firearms, so the potential affinity exists.
A Costly Sport
The difference for shooters is the cost of training. Competition-level firearms price between $8,000-20,000. Between ammunition, clay pigeons and range fees, a day of training can run as high as $450. It really adds up, said Vincent Hancock, one of Rhodes teammates. Ive only found two sports that are more expensive — anything to do with a horse, and car racing.
The US Olympic Committee helps foot the bill. Because of shootings high potential to medal, USA Shooting received $2.5 million in 2015, third-most among summer sports behind swimming and track and field. Still, the ammunition provided by the federation doesnt always cover athletes needs. The day before departing for Rio, for example, Rhode shot 450 targets, she said.
Similar Challenges
As for Hancock, on Saturday he will attempt to win a gold medal in his third consecutive Olympics for skeet shooting. Even as one of the sports favorites, Hancock still struggles to prevail upon potential backers who arent tied in some way to the firearm industry.
A lot of times they say, well, we really like you, youre great and your credentials speak for themselves, but were not sure how we can really fit you in, Hancock said. It seems like they want to, but dont want to get caught up in the media backlash that may arise if something were to come about with, say, one of the shootings.
Shooters in other countries have faced similar challenges. Even in Italy, where the national shooting federation claims about 500,000 members its U.S. counterpart has about 5,250 the team struggled to transcend sponsors fears about firearms.
You talk about rifles and pistols and people are afraid, especially in Europe with the recent terrorism, said Luciano Rossi, an Italian senator who is also president of the countrys shooting federation, and also vice-president of the international shooting federation. We must offer a new image of our sport. If the spectators know our sport, they understand and love us, and if they love us, the sponsors come.
Watch Next: Athletes Have Always Cheated, And They May Never Stop
Source: http://www.bloomberg.com/