How fast can an exchange-traded fund lose nearly 90 percent of its assets? Less than a day.
Thats all it took for Franklin Templeton Investments Corp. in Toronto to cash in more than $130 million shares of WisdomTree Investment Inc.s Australia & New Zealand Debt Fund last week, according to a person familiar with the matter. The withdrawal amounted to 88 percent of the funds assets and left it with just $19 million under management, data compiled by Bloomberg show.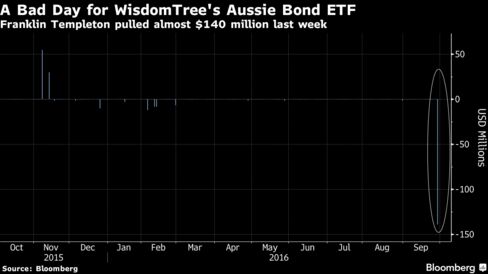 The fund has returned more than 12 percent this year amid a rally in Australia and New Zealand bonds as central banks in both nations lopped another 50 basis points from their borrowing benchmarks, slicing interest rates to record lows.
The recent selloff in global debt markets has seen yields rebound and hurt returns for fixed-income investors. The rate on Australias benchmark 10-year bond was 2.12 percent as of 12 p.m. Wednesday in Sydney, 31 basis points above its Aug. 2 low. The comparable New Zealand rate has risen 35 basis points from its Aug. 11 nadir to 2.46 percent.
By selling when it did, Franklin Templeton locked in that gain, avoiding the ETFs 1.1 percent tumble on Tuesday, its biggest decline in three weeks, data compiled by Bloomberg show. The company has invested the proceeds in assets with less exposure to interest-rate risk, such as investment-grade credit and gold, said the person. The fund closed at $18.66 Tuesday and is up more than 17 percent over the past 12 months.
However, regardless of its performance, asset flight was always a risk for the WisdomTree ETF in part because so much of it was controlled by one owner.
Its important to try to get multiple investors rather than one big one, said Mohit Bajaj, a director of ETF trading solutions at WallachBeth Capital in New York. Because if he pulls, then it will decimate the fund. Bajaj pointed to WisdomTrees Brazilian Real Strategy Fund as an example, noting that it lost $454 million in January 2014 and hasnt topped $50 million assets since.
A spokeswoman at Franklin Templeton in Canada was not immediately able to comment on the sale. WisdomTree declined to comment, citing company policy on client positions.
WisdomTrees Australia and New Zealand fund invests in debt denominated in those countries currencies that is primarily issued by governments and supranational agencies, the data show. Franklin Resources Inc., the Canadian managers parent, owned nearly eight million shares in the WisdomTree ETF worth almost $138 million at the end of June, regulatory filings show.
For Kevin Flanagan, senior fixed income strategist at WisdomTree, the sale demonstrates one of the benefits of ETFs — flexibility.
The beauty of ETFs, he said, is that in addition to long term holdings, they can also be used as precise trading tools in specialized areas such as Asia Pacific.
Read more: http://www.bloomberg.com/news/articles/2016-10-04/one-big-order-by-franklin-templeton-gutted-this-aussie-debt-etf