As many as 30,000 people are expected to take to the streets in Cologne, Germany, on Sunday in support of Turkish President Recep Tayyip Erdogan, with local police concerned that a counter-demonstration may spark violence.
We assume the atmosphere will be emotionally charged, police chief Juergen Mathies told Die Welt newspaper. We are prepared for particular forms of violence.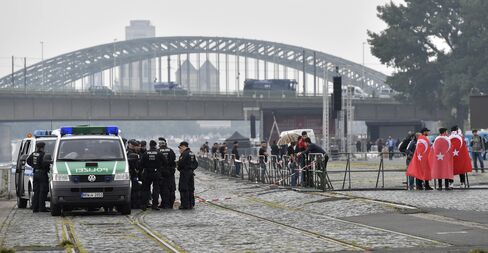 About 2,300 policemen will be deployed at the rally, which is organized by the Union of European-Turkish Democrats. Erdogans government will be represented by Youth Minister Akif Cagatay Kilic, according to the Bild newspaper.
The gathering of pro-government Turks comes amid heightened security concerns, after Germany was hit by a string of terror attacks over the past weeks. Some of those have been linked to the group Islamic State.
Right-wing demonstrators are planning to stage a counter march under the slogan No Tributes to Erdogan in Germany: Stop the Bosphorus Islamist Autocrat. A judge authorized the event, which is supported by the German far-right political party Pro NRW, despite efforts by Cologne police to bloc it amid security risks, the German DPA news agency reported on Saturday.
Mass arrests in Turkey and widespread purges in the military and civil service in response to a July 15 attempt to overthrow Erdogans government have drawn criticism from European authorities. German politicians have expressed concerns that the countrys internal politics could spill over into Germanys 3-million strong Turkish community.
Turkish conflicts mustnt end up in violence in our streets and squares, Julia Kloeckner, deputy chairman of Chancellor Angela Merkels party CDU, told Die Welt.
Read more: http://www.bloomberg.com/news/articles/2016-07-30/pro-erdogan-rally-in-germany-seen-drawing-30-000-amid-tensions