Scottish First Minister Nicola Sturgeon said her government started work on legislation for a new referendum on independence after the U.K. as a whole decided to quit the European Union while Scotland voted to remain.
Speaking after an emergency meeting of her cabinet in Edinburgh on Saturday, Sturgeon said she will also be seeking talks with European leaders and the institutions of the EU about ways of continuing Scotlands relationship with the bloc. The semi-autonomous government will appoint a panel of advisers in coming weeks and convene a meeting of consuls from EU member states.
A second independence referendum is clearly an option that requires to be on the table, and it is very much on the table; to ensure that option is a deliverable one in the required timetable, steps will be taken now to ensure the necessary legislation is in place, Sturgeon said in a televised statement outside her official Bute House residence. We are determined to act decisively, but in a way that builds unity across Scotland about the way forward.
The campaign to leave the worlds largest trading bloc scored a stunning victory in Thursdays Brexit vote that shook financial markets across the globe and upended Britains political establishment. Immediately, questions were raised about the future integrity of the U.K. less than two years since Scots last voted on independence, deciding 55 percent to 45 percent to stay in the three-centuries-old union with England. The Sunday Post newspaper said a poll now showed majority support for independence.
New Campaign
The prospect of another vote dominated Scottish media on Saturday. The front page of the Daily Record, the top-selling newspaper, declared EU, Go Girl and said Sturgeon had no choice but to call another vote. The Herald said on its front page that Scotland is on course for a referendum within two years.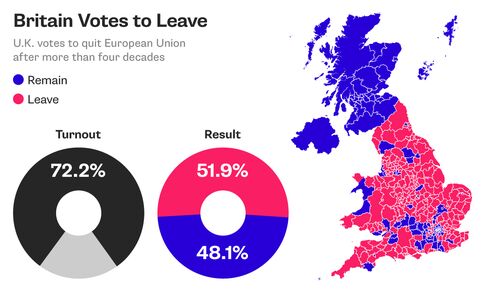 Brexit is one of the game changers Sturgeon and her Scottish National Party have said would prompt them to push again for full autonomy. Another was a turn in the polls to show a clear majority would back independence.
Before the EU referendum, a survey by TNS showed the country of 5.4 million was split roughly as it was in the 2014 independence vote. One published by the Sunday Post after the Brexit decision showed 59 percent of people in Scotland would now vote for breaking away from the U.K. The Dundee-based newspaper put the finding on its front page posted on Twitter, and the size of the sample and pollster werent available.
During the last independence referendum, the difficulty of joining the EU after secession was used as a threat by pro-union campaigners, including U.K. Prime Minister David Cameron, who resigned in the wake of the Brexit defeat. Scotland is now reaching out to Brussels and EU diplomats to ensure that doesnt happen again.
For analysis of Scotlands independence drive, click here
We will seek to enter into immediate discussions with EU institutions and EU member states to explore all possible options to protect Scotlands place in the EU, Sturgeon said. She also sought to reassure the business community that Scotland is, and will continue to be, an attractive and stable place to do business.
The bitter Brexit campaign across most of the U.K. barely touched Scotland. Political leaders were united in staying in the EU. In the end, 62 percent of voters backed Remain, with 38 percent favoring Leave. Britain as a whole voted 52 percent to 48 percent to go it alone after 43 years of membership in the bloc.
Effective Government
Scotland is due almost 1 billion euros ($1.1 billion) from two EU development funds by 2020. The ensuing post-Brexit negotiations on areas such as fishing rights and agriculture may be key, as will the question of how Camerons successor, to be chosen by the Conservative Party in the next few months, decides to handle the issue of Scottish sovereignty.
In the meantime, EU Commission President Jean-Claude Juncker said he doesnt expect an amicable divorce, while German Chancellor Angela Merkel repeated her desire on Saturday to avoid ugly negotiations.
As Westminster is engulfed in political turmoil and as a vacuum of leadership develops, I want to make clear that Scotland is led by a stable and effective government, Sturgeon said.
Source: http://www.bloomberg.com/