Spain moved to turn the screws on Catalonia as the European Union refused to recognize the rebel region's bid for independence, sending the country into its biggest crisis since the end of Francisco Franco's dictatorship and threatening to unravel a four-decade old democratic settlement.
After a day of violence in the region on Sunday when the central government sent in police to disrupt voting in an illegal referendum on independence, Justice Minister Rafael Catala said it would use all the tools at its disposal — including if necessary the suspension of Catalonia's autonomy — to enforce the rule of law. The EU for its part said the Catalan matter must be dealt with under the Spanish constitution.
"We have always said that we would use all the force of the law and all the mechanisms that the constitution and laws grant," Catala told broadcaster TVE in an interview. While images of police violence provoked alarmed reactions from some European government officials, Catala praised the security forces for their "measured" response.
Catalan History of Grievance Leaves a Divided Spain: QuickTake
Prime Minister Mariano Rajoy looks to be doubling down on his response to a still-escalating crisis after secessionist leaders in Barcelona signaled they may declare independence within days for the region that constitutes about a fifth of Spain's economic output. Asked if he would consider applying the never-before-used article 155 of the Spanish constitution to suspend the region's government, Catala said the government's duty was to "fix problems" and ensure the law is enforced.
Spanish stocks, shares of Catalan lenders and the euro fell on Monday as the country was left reeling from the previous day's events that saw thousands of police use force to obstruct voting in the referendum ruled illegal by the constitutional court in Madrid. The clashes left hundreds of people injured, according to the regional government.
Unions backing independence declared strikes to be held from Tuesday in protest. Spain's public works ministry ordered a minimum 33 percent service on local trains and 76 percent service on long-distance trains.
The euro was down 0.5 percent to $1.1755 as of 3:15 p.m. in Madrid, while Spain's benchmark IBEX 35 stock index slid 1.8 percent. Barcelona-based CaixaBank SA fell as much as 4.8 percent and Banco Sabadell SA, another Catalan lender, fell as much as 6.6 percent.
Parliamentary Talks
While the violent images will harm the country's brand, Rajoy's stance may play well with his core base in conservative Spain, said Antonio Barroso, a political risk analyst at Teneo Intelligence in London.
"In the short-term, this doesn't necessarily harm Rajoy," said Barroso. "In the longer-term, the divisions in Spain become more entrenched."
Rajoy has said he will address Parliament on the crisis. After a meeting with him on Monday, Pedro Sanchez, the leader of the Socialists, the second-biggest party in parliament, demanded that Rajoy open talks with Catalan President Carles Puigdemont and meet other political leaders including Unidos Podemos to discuss the Catalan crisis. He also demanded an explanation for the police's use of violence. Rajoy also met Albert Rivera, the head of the Ciudadanos party.
Article 155 of Spain's 1978 constitution allows the premier a final recourse option to suspend Catalonia's semi-autonomy. Puigdemont said Sunday's events showed the region had won its right to become a republic and called on the EU to support its cause.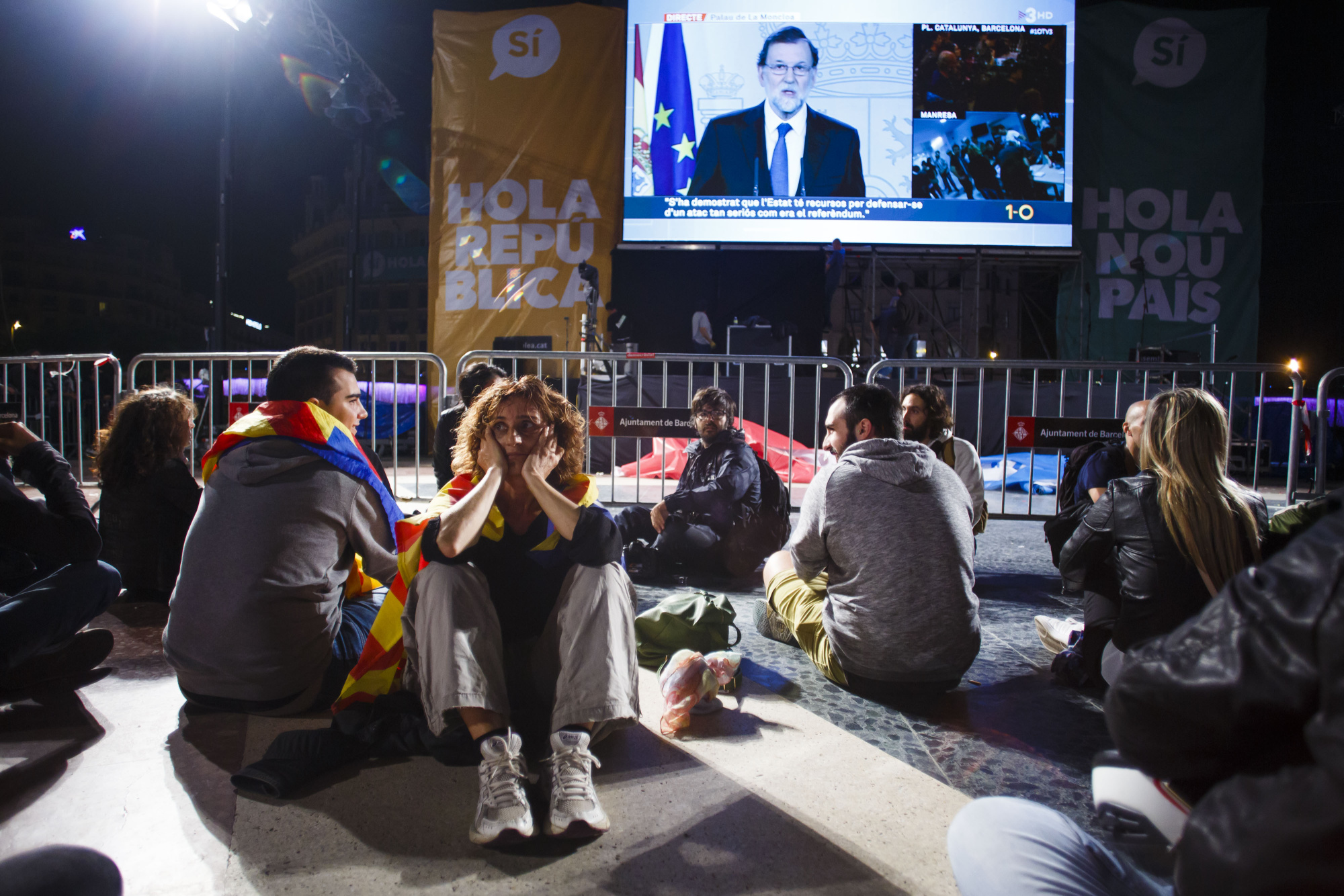 The EU refused to heed Catalan pleas for recognition, arguing that the matter is a domestic one for Spain and that an independent Catalonia would be outside the bloc. The matter will have "to be dealt with in line with the constitutional order of Spain," European Commission spokesman Margaritis Schinas told reporters in Brussels on Monday.
Minority Government
While regional heads such as Scottish First Minister Nicola Sturgeon backed the Catalan desire to vote, Belgian Prime Minister Charles Michel was one of few EU leaders to comment. Even then he steered clear of endorsing the Catalan government line, saying on Twitter only that "we condemn all forms of violence and reaffirm our call for political dialogue." 
The Catalan crisis has already caused broader problems for Rajoy's efforts to rule Spain as the head of a minority government that relies on support from regional parties to get legislation passed. Last week he had to pull plans to present his 2018 budget after allies in the Basque PNV party withheld their support as they criticized his stance on Catalonia.
Inigo Urkullu, the Basque "lehendakari," or regional president, said the police action was totally disproportionate and the use of courts and security services couldn't be a solution to Catalonia's crisis, El Diario Vasco newspaper reported. Speaking to reporters in Barcelona on Monday, Puigdemont demanded the withdrawal of Spanish police and civil guards from Catalonia after yesterday's vote.
Voting Tally
Two million Catalans backed independence out of 2.3 million votes cast, government spokesman Jordi Turull said at a press conference in the early hours of Monday. Just over 5 million people were eligible to vote. Before the government crackdown began, separatist leaders said they would be comfortable declaring independence with about 1.8 million votes. The government disputes the result, saying there were no safeguards to prevent people voting more than once after it acted to take down online voting rolls.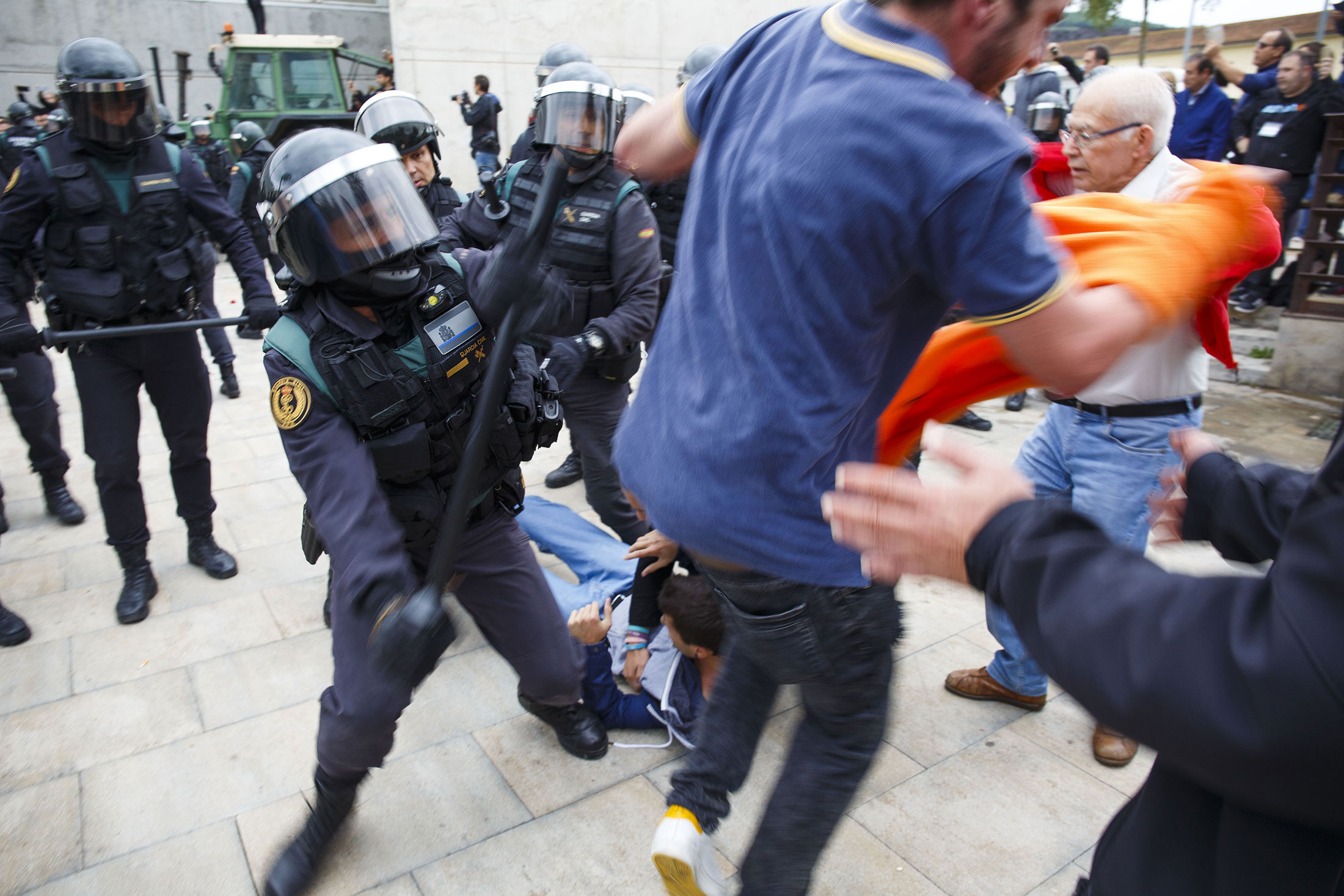 Puigdemont's time frame could see him announce the formation of a Catalan republic on Oct. 6, exactly 83 years since his predecessor as regional president, Lluis Companys, also declared independence. Companys was executed by the dictatorship of Franco.
Read more: http://www.bloomberg.com/news/articles/2017-10-02/spain-vows-to-enforce-law-in-rebel-catalonia-as-standoff-worsens