China may be lagging behind in the medal count during this years Olympic games in Rio de Janeiro, but its winning the competition for Brazilian assets.
No country has done more acquisitions in Brazil this year than China, which has grabbed the No. 1 ranking for the first time on record, according to data compiled by Bloomberg. Chinese firms have announced $4 billion of purchases in Brazil so far this year, the highest total for a comparable period since 2010.
Latin Americas biggest economy has turned into a fertile hunting ground for Chinese acquirers, as Brazilian firms look for suitors to help them ride out the nations longest recession in decades. A 50 percent drop in the real over the past five years has increased Chinese firms buying power, while political opposition to takeovers is proving a smaller hurdle than in the U.S. and U.K.
Brazil has been welcoming towards Chinese investment given the economic challenges the country is facing, Joseph Gallagher, head of mergers and acquisitions for Asia Pacific at Credit Suisse Group AG, said in an interview in Hong Kong. Chinese appetite for Brazilian assets will continue to be high.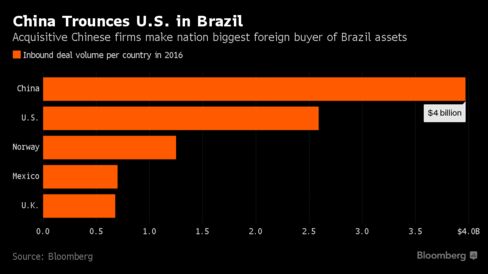 Debt reduction has been a big motivation for sellers. Camargo Correa SA, a Sao Paulo-based builder thats been trying to cut leverage, agreed in July to sell its entire 24 percent stake in CPFL Energia SA to State Grid Corp. of China. Vale SA, the iron-ore miner shedding assets to better manage its debt load, agreed to sell three vessels to a Chinese group for $269 million last month.
Many Brazilian companies are being forced to sell very attractive assets at good prices to reduce their debt, said Renato Ejnisman, the head of investment banking at Banco Bradesco SA in Sao Paulo.
For Chinese buyers faced with pricey equity valuations at home, companies in Brazil look like bargains. About 11 percent of the nations 473 public companies trade at less than half book value, data compiled by Bloomberg show. The reals slump to beyond 4 per dollar made Brazilian assets look especially attractive earlier this year, though the currency has since recovered by more than 30 percent amid a broader rally in emerging markets.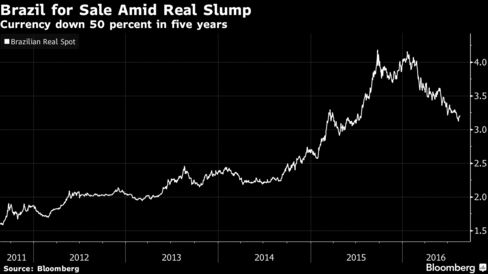 While Brazils economic downturn has been painful, Chinese acquirers see the country as a long-term growth market, in part because of its 200 million-strong population, according to Brian Gu, co-head of Asia Pacific mergers and acquisitions at JPMorgan Chase & Co.
The nations power and utilities sector is particularly attractive for Chinese buyers seeking to replicate the growth theyve enjoyed at home for the last decade, said Helen Li, head of Asia power and utilities at Bank of America Merrill Lynch. Brazil has a relaxed process for evaluating takeovers relative to the U.S, Europe and Australia, where some Chinese suitors have struggled to win government approval, according to Li.
Even after this years spate of acquisitions, there will be additional opportunities for Chinese purchases as European and North American firms consider exiting Brazil, said Zilong Wang, head of M&A at China International Capital Corp., the countrys most active domestic adviser this year.
Commodity Rebound
Duke Energy Corp., the second-largest U.S. utility owner by market value, said in February its considering the sale of about 4,400 megawatts of generating capacity in Central and South America, half of which is in Brazil. State-owned China Three Gorges Corp. was among bidders invited to make a binding offer by the end of this month, according to people with knowledge of the matter.
Beijing-based State Grid has made an offer for Brazilian power transmission lines being sold by Spains Abengoa SA in a deal that may fetch about 1 billion reais ($312 million), people with knowledge of the matter said in July.
A recovery in commodity prices since January could give Chinese buyers yet another reason to pounce. Vale is nearing an agreement to sell its entire fertilizer business, which includes mines in Brazil. The Rio de Janeiro-based company has also held talks with Asian mining companies to offload a minority stake in its iron-ore business, people familiar with the matter said in June.
There have been signs of recovery and stability in commodity prices, JPMorgans Gu said. That provides a level of comfort for buyers pursuing metals and mining assets, something that Brazil has in abundance.
Source: http://www.bloomberg.com/