Brazilian shares may rise 15 percent in the coming months if the government can pass a pension reform that would save Latin America's largest economy hundreds of billion reais, according to Marcos Peixoto, the head of XP Investmentos's asset management unit.
Lower House speaker Rodrigo Maia said in a recent interview with Folha de S. Paulo that the pension overhaul may be approved in the next few weeks. Merely setting a minimum retirement age would be enough to prompt the market rally, Peixoto, which has 9 billion reais ($2.9b) in assets under management, said in an interview at his Sao Paulo office. Downside is limited as Brazilian stocks may only lose one to two percent if the reform is not approved, he added. 
A 15 percent rally in the Ibovespa would imply a move to 77,308, eclipsing the previous record close of 73,516.81 from May 2008.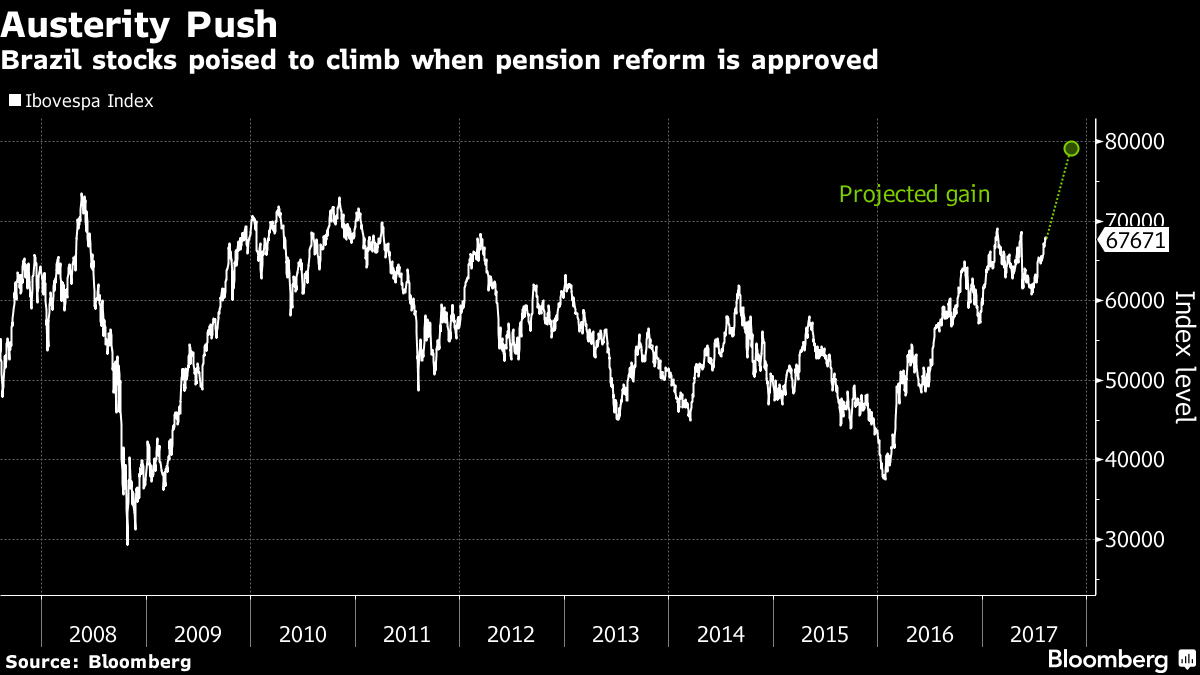 XP, the nation's third-biggest brokerage by equity-trading volume, also forecasts equities having the potential to attract $200 billion, when the Selic rate gets below 7 percent vs the current 9.25 percent
"Money will certainly start migrating to equities at the end of the Selic cut cycle, it doesn't mean Brazilian equities will attract all of this though," Peixoto said
"Retail investors were just buying fixed income in the past 5 years while pension funds are sitting on government bonds"
XP has been buying upside calls, as the very low implied volatility makes it the cheapest way to bet on Ibovespa upside

Lojas Americanas is XP's largest holding with a stake representing 12 percent of the fund, also playing the Selic cut; sees share rising to 22 reais from about 15.61 reais now, assuming cash burn ceases in second half
Also bullish on Brazilian utilities, which represent one third of the portfolio; holdings include Sanepar, Copasa, Sabesp and Cteep

Sanepar, which went through "traumatic tariff revision," is a resilient business which could be compared to local currency inflation-linked bonds NTNB; shares may double after the 25% tariff raise is fully implemented over the next eight years

Top picks in the financial sector, which represents 20 percent of XP's portfolio, are Itau and IRB
Also holds Fibria and Suzano as pulp prices are expected to fall less than anticipated; positive developments expected related to Eldorado M&A and Banrisul privatization
Source: http://www.bloomberg.com/