When the rest of the world rings in the New Year, Indias central bank will be grappling with a unique situation: how to deal with more than 23 billion worthless bank notes.
Stacked one on top of the other, the pile would be 300 times the height of Mount Everest. Laid down to form a pathway, itd be long enough to reach the moon and back five times. Prime Minister Narendra Modi invalidated the bills in a single move announced Nov. 8, sucking out 86 percent of the nations currency in circulation and giving citizens until Dec. 30 to exchange them for fresh notes.
Described as the worlds most sweeping currency policy change in decades, the step has earned the government both admiration for its boldness and criticism for its execution. The Reserve Bank of India spends more than $400 million on currency production each year, about 1.5 percent of the global bank note industry.
Most of the junked notes will be destroyed and dumped in landfills following the usual process used with soiled notes, said a senior central bank official, asking not to be identified as the collection is ongoing. Many will also be turned into briquettes for industrial use, while some could be converted into paperweights and other such knickknacks.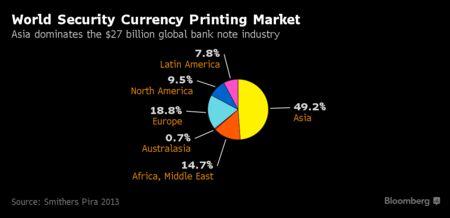 About 98 percent of all consumer payments in India use cash, and the high frequency of handling forces the monetary authority to withdraw about 75 percent of its notes in circulation in a typical year — more than the number of bank notes collectively produced by all countries taken together with the exception of China.
EBay Sales
Some sneaky bills may survive the cull this year. Modis landmark decision to ban the notes has heightened their perceived value for some people, especially those notes that carry the signature of Indias rock star former central bank Governor Raghuram Rajan. The bills are popping up for sale at twice their face value on websites such as those run by EBay Inc.
With the governments step targeted at black money — the local term for cash stashed away to avoid tax — there are also media reports of folks tearing and burning their bills to avoid prosecution. Of the 15 trillion rupees withdrawn by Modis move, about 6 trillion rupees have been deposited at banks, and the government estimates that about 5 trillion rupees will stay undeclared.
The cost to replace the old notes could be as high as 200 billion rupees, former Finance Minister Palaniappan Chidambaram wrote in a newspaper column, attacking the governments decision. His successor Arun Jaitley, in charge of overseeing the move, said such estimates are "highly exaggerated."
Read more: http://www.bloomberg.com//news/articles/2016-11-22/five-times-to-the-moon-and-back-scale-of-india-s-junked-bills